Spirit Days Kickoff This Fall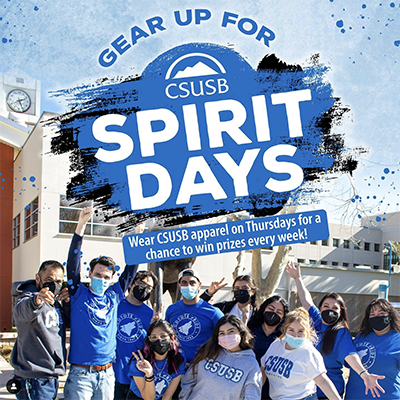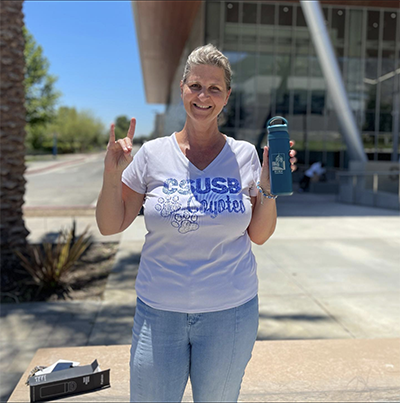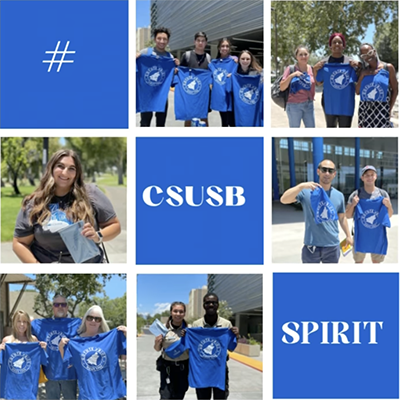 Get ready for school spirit this fall with the launch of Spirit Days at CSUSB every Thursday during Coyote Hour from 12-12:50 p.m. It is an opportunity for students at the San Bernardino and Palm Desert campuses to earn prizes for wearing their CSUSB apparel. The Division of Student Affairs is leading this university-wide initiative with the help of campus partners. 
According to Jared Fisk, Santos Manuel Student Union Marketing Manager, the goal is to increase school spirit with students and establish a day the campus community can show off their CSUSB pride and gear. 
Spirit Days began in June with a soft launch. However, it officially kicked off in the fall. Spirit Days has both an in-person and online component. On Thursdays, students on campus should be on the lookout for the spirit cart, which will feature a variety of Student Affairs staff and members of the Spirit Squad passing out prizes. There may even be a special appearance by Cody! Students not wearing CSUSB apparel can still get in on the action and earn a free CSUSB t-shirt. 
There is also a spirit cart at the Palm Desert Campus, and students who wear CSUSB apparel on Thursdays can stop by the Rancho Mirage Student Center for free CSUSB swag. 
For students not on campus, they can still participate in Spirit Days by posting a picture of themselves in CSUSB apparel on Instagram using the hashtag #CSUSBSpirit. The picture needs to be posted on their Instagram story and the Santos Manuel Student Union (@csusb_smsu) should be tagged in the post. Students will have a chance to win CSUSB swag bags full of prizes, including CSUSB hats and totes. 
Spirit Days are not just for students. CSUSB staff are also encouraged to participate with their teams by wearing CSUSB apparel to campus on Thursdays.
Stay connected and follow Student Affairs on social media: Instagram, Flickr, and YouTube. 
To access information about the Division of Student Affairs, click here