Meet PDC Counselor Susan Lilly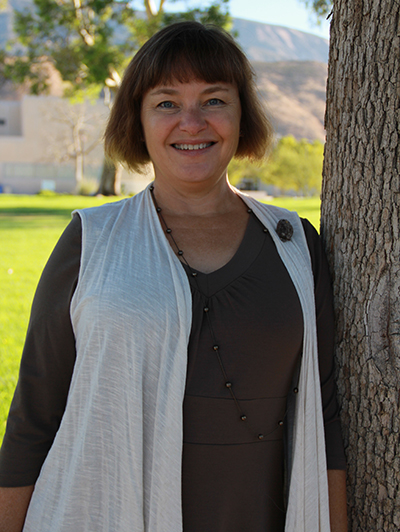 Susan Lilly is the Counselor at the Palm Desert Campus. She joined the Coyote family in February 2013 at the San Bernardino campus before heading to PDC in 2015. 
Susan has worked in education for more than 15 years, having held counselor positions at a middle school and high school prior to working at CSUSB. 
In her current role, she helps students overcome any struggles or concerns they encounter in their lives, such as issues with family life, school, and interpersonal relationships. She also helps students overcome any experiences they are dealing with that they do not understand or are having trouble tolerating within themselves. 
According to Susan, counselors help people sort out issues, learn skills, or provide them with resources they can use to help themselves. They also help people explore how a situation started with them, how they're coping with it, and what they can do to cope better. 
"A lot of times students have zero experience with therapy or just hear culturally or socially what therapy is about," said Susan. "And a lot of times students think that something has to be really wrong with them or if they go to therapy that means they have a mental illness. That's often not the case. We all have struggles with stuff at some point in their lives."
All currently enrolled students who have paid the Student Health & Psychological Counseling Center Program and Facilities Fee are eligible to use Counseling and Psychological Services (CAPS) at CSUSB. CAPS provides individual and group counseling and supports students during their academic pursuit.
"Sometimes situational things, long standing emotional issues get in the way, and we're there to provide whatever support we can to help [students] achieve their goals," said Susan. 
The department also offers wellness workshops on a variety of different topics each semester, such as dating relationships, stress reduction, school habits, and health and wellness. Recordings of the workshops are available to students on the CAPS website. 
CAPS services are available to students throughout the year, including the summer. However, to be eligible to utilize services in the summer, students must be enrolled in classes or pay the Student Health & Psychological Counseling Center Program and Facilities Fee. 
For Susan, the best part about her job is working with students. 
"Most of our students work quite hard in their academic careers, and they're juggling a lot of things, and it's just really a joy to support them during a small part of their journey."
To schedule an appointment at Counseling and Psychological Services, call 909-537-5040.