Student Affairs Celebrates Asian Pacific Islander Desi American Heritage Month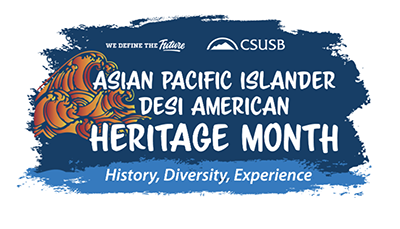 Throughout April, CSUSB hosted a number of virtual and in-person events to celebrate Asian Pacific Islander Desi American Heritage (APIDA) Month. Student Affairs was proud to participate in the celebration. The month honored APIDA identities, experiences, histories, and cultures.
Nationally, APIDA Heritage Month is celebrated in May. However, to ensure a full month of festivities before classes end in May, CSUSB chose to kick off the festivities a month earlier. This year's theme was "History, Diversity, Experience." Students had the opportunity to learn about the culture and contributions the Asian, Pacific Islander, and South Asian communities have made throughout history. 
"One of the truly wonderful things about CSUSB is not just how diverse our community is but how everyone in the community pitches in and contributes," said Mike Chao, who is co-chair with Muriel Lopez-Wagner of the 2022 APIDA organizing committee. "During planning, co-chair Muriel Lopez-Wagner and I reached out to faculty, staff, students, and community members for help on organizing the celebration, and they really came through in a big way – just look at our program this year. 
He added, "It just goes to show how important recognition and celebration of all of our heritages is."

The celebration officially kicked off on April 4 at the APIDA Heritage Opening Ceremony and will conclude in early May. Visit the Asian Pacific Islander Desi Heritage Month webpage for more information and to get a full listing of the events.
To access information about APIDA Heritage Month, click here