Educational Opportunity Center Joins Student Affairs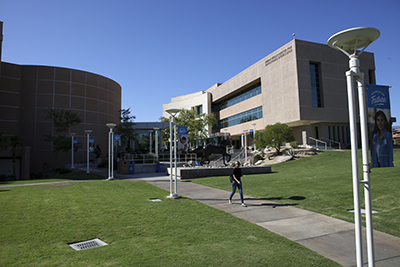 A new department has joined the division. The Educational Opportunity Center (EOC) is now one of 21-plus departments in Student Affairs. EOC is CSUSB's first federal TRIO program specifically targeting students in the Coachella Valley and will provide a variety of services including academic coaching, individual advising, group workshops, and referral to educational and community resources.
In addition, EOC will provide information about financial and academic assistance to those who want to attend college, assistance to individuals in applying for admission to colleges and universities, and information regarding financial and economic literacy.
This new Educational Opportunity Center grant serving the Coachella Valley was awarded by the U.S. Department of Education to the CSUSB Palm Desert Campus. The grant is funded for five years and will serve 850 students per year. 
The Educational Opportunity Center is one of the eight federally-funded TRIO programs targeted to serve and assist low-income individuals, first-generation college students, and individuals with disabilities to progress through the academic pipeline. 
"The Educational Opportunity Center represents an opportunity to expand upon the good work that the Office of Pre-College Programs and Cal State San Bernardino already engages in," said Fernando Marquez, Director of Educational Opportunity Center. "With a focus on working with adults 19 years and older who have yet to earn a high school degree or who are not already pursuing postsecondary education, it stands to serve a key demographic of the community and to raise educational attainment levels in the Coachella Valley."
He added, "The Educational Opportunity Center will help adults further their education through individualized support, educational planning, opportunities to learn about postsecondary options and career fields, assistance with applying for financial aid, and connecting them with other community resources to ensure their overall success. The program's ability to go out into the community means that these services can reach individuals and families that are often underserved. By raising the overall educational attainment of adults in the Coachella Valley, the program will have a broader positive impact in the region."
To contact the Educational Opportunity Center, email trioeoc@csusb.edu. Stay connected and follow EOC on social media: Instagram, Twitter, and Facebook. 
To access information about the Educational Opportunity Center, click here