Students Gain Hands-On Experience with Children's Center Internships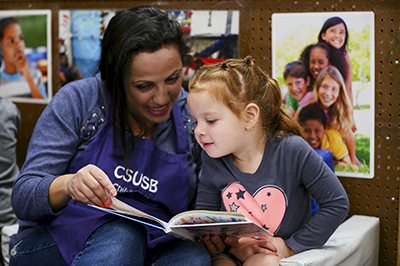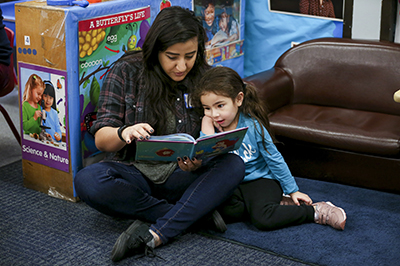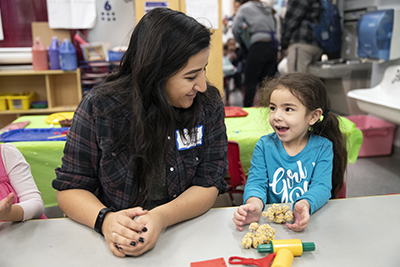 The Children's Center and Infant Toddler Lab is one of 21-plus departments in Student Affairs. The department provides CSUSB students internship opportunities during the academic year. 
This year, the Children's Center and Infant Toddler Lab had 10 student interns and were only able to offer internships during the spring semester. However, next year, the department anticipates at least 20 students participating in its internship program who will work directly with the children. 
The Children's Center and Infant Toddler Lab may also have a few nutrition students completing a brand-new internship program. These students will be working alongside its nutritionist assistants and gaining hands-on experience in working with the Child and Adult Care Food Program (CACFP) while providing healthy and delicious meals for the preschoolers.
The internship program was created to serve as a training ground for the education and preparation of future leaders in the fields of early childhood education and child development. As an intern, students receive hands-on training experience directly from a master teacher while engaging with the children. Since the hours are completed directly in the field, the internship provides experience and knowledge that cannot be gained from a lecture. It also serves as a bridge for students to connect what they are learning in class and experiencing with the children. The Children's Center and Infant Toddler Lab believe that by creating this experience for students, they are better prepared to launch their careers and are more confident in their abilities to be successful after they graduate. 
Students who are interested in completing an internship that works directly with children at the center must complete the class Intro to Child Development and Early Childhood Development. Nutritionist students completing an internship at the center would be placed by their professor when enrolled in a course that requires practicum experience.
"My internship experience has honestly gone better than I could have ever anticipated," said student intern Taylor DeTinne. "As a future teacher, I am getting hands-on experience working with children and handling everyday situations."
She added, "This has made my student experience beneficial by giving me tools to excel in my career while also enjoying my time here at the Children's Center."
Currently, students apply for the internship program directly on the department's website. However, next year, students who are in the Child Development Program will be placed at the center directly through the Child Development Department if they choose the Children's Center site and are enrolled in the internship course.
The department's internship programs are one semester long. The number of hours required to complete the internship depends on the specific requirements of the student's degree program.
Stay connected and follow the Children's Center and Infant Toddler Lab on Instagram @csusb_childrenscenter. 
To access information about the Children's Center and Infant Toddler Lab, click here