Santos Manuel Student Union North Officially Opens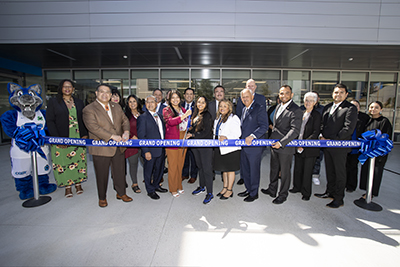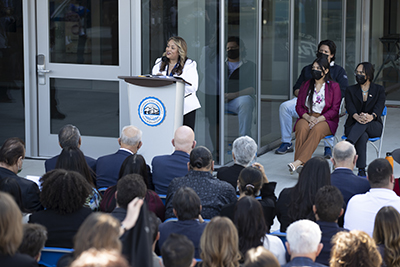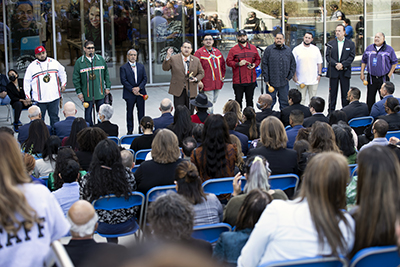 The campus and local community came out to support the grand opening of the Santos Manuel Student Union North on Thursday, March 17. It was a day many had been looking forward to since the SMSU broke ground on the three-story, 120,000-square-foot expansion in July 2019. 
More than 500 attendees, including students, faculty, staff, administrators, dignitaries, and members of the San Manuel Band of Mission Indians, participated in the ribbon-cutting ceremony from 11 a.m.-12 p.m. The grand-opening festivities continued from 12-2 p.m. with conference room showcases, live music, free food, center/department activities, free bowling, alumni mixer, and more. 
In addition to providing remarks, student leaders Julia Ruiz, Chair of the SMSU Board of Directors, and Daisy Ramos Gomez, Associated Students, Inc. President, served as the event masters of ceremonies. 
"The Santos Manuel Student Union's goal is to always put students first," said Julia. "It is an honor to be a part of a legacy that helps our students realize their greatness." 
She added, "It is an honor to stand before you as an indigenous student creating space at the table for other underserved students."
The event opened with the sharing of traditional songs by the Bird Singers of the San Manuel Band of Mission Indians. The group was joined on stage by Robert Levi, CSUSB's inaugural Elder in Residence and special consultant.
During the ceremony, President Tomás D. Morales announced that CSUSB will award an In Memoriam (Posthumous) Honorary Doctorate in Humane Letters to indigenous leader Santos Manuel, (Paakuma' Tawinat), Kiika' of the Serrano Indians, Yuhaaviatam Clan, at the spring commencement in May.
In addition, Dr. Paz Olivérez, Vice President for Student Affairs, provided remarks. She reminded attendees that two years ago, eight months after her arrival at the university, more than 150 CSUSB students, faculty, and staff gathered for the SMSU North topping off ceremony, which celebrated the placement of the highest beam in the expansion project. Two years later, the event attendees were celebrating its opening, highlighting the full-circle moment. The ribbon-cutting to the SMSU North concluded the ceremony. 
The SMSU now consists of three buildings – the SMSU North, SMSU South, and SMSU East — and is one of the largest building complexes in the 23-campus California State University system. The expansion includes a multi-purpose ballroom (twice the size of the existing Events Center), an eight-lane bowling alley and game room, a pub, food eateries, collaboration spaces for student organizations and student support centers, and a bookstore.
Call the SMSU office at 909-537-5940 or click the link below for more information about the Santos Manuel Student Union. Stay connected and follow the SMSU on social media: Facebook, Instagram, Pinterest, Twitter, and YouTube. 
To access information about the Santos Manuel Student Union, click here