Paraprofessionals Help CSUSB Host NCAA Division II Men's Basketball Tournament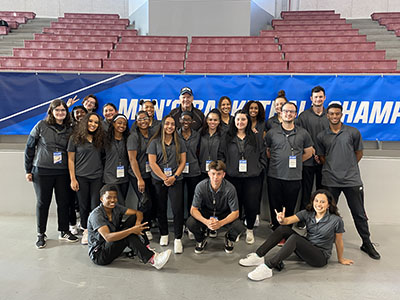 On March 11, 12, and 14, CSUSB hosted the first three rounds of the NCAA Division II Men's Basketball Tournament inside Coussoulis Arena. The undertaking was a massive one requiring a student staff of approximately 40 paraprofessionals taking on a variety of roles, including box office, team escort and host, video production, broadcast play-by-play, public address announcer, statistics, DJ, and hospitality host. 
The tournament included seven games over three days with teams visiting from all over California and even Alaska. The feedback from visiting teams was overwhelmingly positive. 
"Throughout the tournament I received tremendous positive feedback on our staff and the work of our paraprofessionals," said CSUSB Director of Athletics Shawn Chin-Farrell. "They all reflected our core values of Champion People and Champion Performance. I want to thank them once again for demonstrating that we have the best team in the country."
The men's basketball tournament marked the second NCAA Tournament CSUSB paraprofessionals had operated this season, as CSUSB also hosted the first three rounds of the NCAA Volleyball Tournament in December. 
Stay connected and follow Athletics on social media: Twitter, Facebook, and Instagram.