DHRE Provides Students Leadership and Employment Opportunities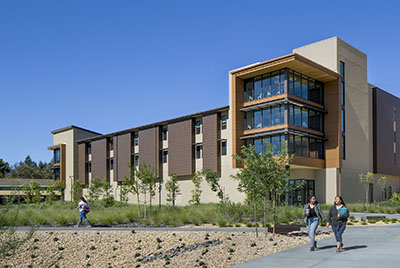 The Department of Housing and Residential Education (DHRE) provides students a home away from home. While living on campus, students have the unique opportunity to explore who they are in a supportive, inclusive community of other students, faculty, and staff. The department provides services and resources to students as they pursue their academic, personal, and professional goals.
Four residential Villages at CSUSB comprise on-campus housing for students: Arrowhead Village, Coyote Village, Serrano Village, and University Village.  
"The Department of Housing and Residential Education encourages CSUSB students to enhance their college experience by Living With the Pack," said Jon Merchant, Director of Housing and Residential Education. "Our on-campus Villages provide safe, welcoming environments for students to make lifelong friends, conveniently access classes and resources, explore learning opportunities, and grow as a person." 
He added, "The 2022-2023 on-campus housing application is now available. Students are encouraged to apply early as assignments are made based on application submission date and space availability."
The residential communities are designed to enhance a student's life on campus with live-in faculty members, connections to mentors and tutors, and access to services. In addition, Department of Housing and Residential Education's Living Learning Communities support the personal development and academic success of first-year, transfer, and continuing residents.
"We are excited for residents to consider one of our eight Living Learning Communities for the 2022-2023 academic year," said Jon. "We also want residents to consider student leadership and employment opportunities with DHRE for the 2022-2023 academic year. Home is Where the Pack Lives!"
While living on campus, students can apply to be academic mentors or resident assistants to gain hands-on experience. In addition to student employment, residents of the Villages are provided leadership and volunteer opportunities, including being a part of the Residence Hall Association and Village Council. The Residence Hall Association is an elected student body made up of students who live on campus and represent the interests of campus residents.

The Village Council is the student voice of each Village and works to address important issues in the community, as well as provides events for students. The mission of Village Council is to help enhance the residential experience through programming, building a strong community, and assembling a connection with residents and housing student leaders. 
Stay connected and following DHRE on social media: Facebook, Instagram, and Twitter. 

To access information about the Department of Housing and Residential Education, click here