Student Team Leads Marketing Efforts in Recreation and Wellness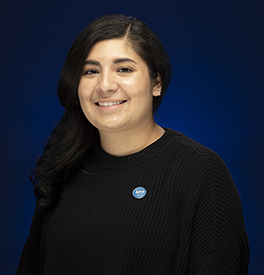 Recreation and Wellness is an auxiliary unit of the Santos Manuel Student Union and one of the 21+ departments in Student Affairs. Its student marketing team is responsible for creating campaigns, promoting events, and contributing to Recreation and Wellness' various social media accounts, which include Facebook, Instagram, Twitter, and TikTok. 
Office Coordinator Brianna Sotelo has supervised the team of students for a year. This involves overseeing the day-to-day operations, project management, and establishing monthly marketing goals and objectives, which allows the team to prioritize its work. The team consists of two field marketers, a videographer, and a social media student.
"They do a lot of research marketing-wise, just understanding trends and finding ways to become trendsetters on campus and really figuring out how to make everyday trends into higher education, or even recreational and wellness, trends, which can be very difficult," said Brianna. 
Under the marketing team umbrella is a student graphics team, which Brianna also leads. The graphics team has their own monthly goals and objectives that contribute to the marketing team. Both teams work hand in hand on a variety of projects throughout the year, which allows the graphics team to gain marketing experience.  
"Since I've taken on the role, I've been so grateful to have such a strong graphics team."
The graphics team do special event flyers for Recreation and Wellness' premier events, such as Snow Day and Late Night. They also create the department's adventure guides that are distributed to the campus community, group exercise schedules, and other graphics requests from the different program areas that make up Recreation and Wellness. The team works with the program area coordinators to determine marketing needs, and a design request form is used to request assistance with promotional materials, marketing campaigns, videography, or graphics. Once a request has been made, the marketing team provides consultations to discuss projects.
Brianna has had the opportunity to watch the students discover their passion and enhance their leadership skills. 
"I have a lot of younger students and freshmen, and to see their growth within the last 4-5 months, just being confident in the content that they want to create and confident in presenting their ideas to myself and to coordinators, it's amazing to witness," said Brianna. 
Stay connected and follow Recreation and Wellness on social media: Facebook, Instagram, TikTok, and Twitter. 
To access information about Recreation and Wellness, click here