Student Affairs Welcomes New Elder-in-Residence Robert Levi to CSUSB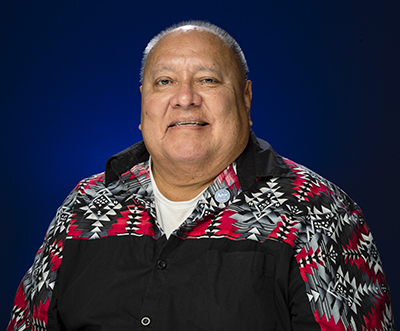 Student Affairs welcomes Robert Levi to CSUSB as the inaugural Elder in Residence and special consultant. In this role, Mr. Levi will sit on a variety of committees to support the work CSUSB conducts in relation to Native/Indigenous people. In addition, he will support the university's efforts in establishing initiatives and partnerships that address the needs of the regional tribal and urban Native communities. 
There are more than 570 Native Nations in the United States and over 150 in California. CSUSB makes it a priority to address the unique needs of the tribes that are in close proximity to the university, including the Palm Desert campus.
Elders bring with them a wealth of knowledge that will help CSUSB identify areas of opportunity about how the university can better address the needs of the Native community.
Reporting to the Associate Vice President of Student Success and Educational Equity Dr. Molly Springer, Mr. Levi will work collaboratively with President Tomás Morales, his cabinet, and other relevant campus leaders.
Mr. Levi is a citizen of the Torres Martinez Desert Cahuilla Indians. He is also a retired AP/CP U.S. history teacher who taught for 38 years. Recently, he served as a mentor for Cal State Northridge's Ethnic Studies Education Pathways Project.
Mr. Levi's connection to the desert communities will allow CSUSB to better engage and partner with tribal communities in that area and support PDC as it extends its reach to Native communities. 
In addition, Mr. Levi and his family hold strong convictions to the Desert Cahuilla traditions. His father, Robert J. Levi, Sr., along with three other Cahuilla elders, have preserved and taught Cahuilla Bird Songs. These social songs have revitalized not only the Cahuilla culture but other tribes throughout the Southern California, Arizona, and Nevada regions.