OSE is One-Stop Shop for Student Engagement and Involvement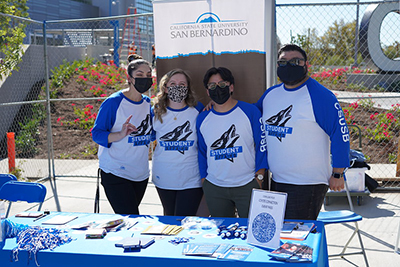 The Office of Student Engagement (OSE) is one of 21-plus departments in Student Affairs. OSE is the one-stop shop for student engagement and involvement at CSUSB. The department helps students get involved on campus by providing social and co-curricular opportunities throughout the year.
"The Office of Student Engagement provides a multitude of involvement and leadership opportunities for our students that range from joining a student organization, to participating in the National Student Exchange program, to learning new skills and knowledge at our annual Social Justice Summit," said Jackie Gardner, Director of the Office of Student Engagement.
OSE advises over 100 student clubs and organizations at the university. Depending on a student's interest, they can choose from a variety of clubs that are academic, cultural, faith-based, service, and special interest organizations.
For students interested in joining a fraternity or sorority, stop by OSE to learn about the 18 Greek life chapters active at CSUSB.
Some of the department's annual campus activities include:
Club Fair
Engagement Expo
Fraternity/Sorority Informational and Recruitment
Lead, Impact, Transform Institute
Social Justice Summit
In addition, the department continually provides students with new opportunities to get involved and expand their skills.
 "We have recently opened the Leadership Lab in the SMSU North, which will be a place for all students to uncover the leader in them and explore the various ways one can be a leader," said Jackie.
For more information about campus activities and involvement opportunities, visit Coyote Connection.
The Office of Student Engagement is located in the Santos Manuel Student Union North, room 3302. Stay connected and follow OSE on Instagram @OSECSUSB and Twitter @OSECSUSB. 
To access information about the Office of Student Engagement, click here