Student Mentors Help Yotes Adjust to College Life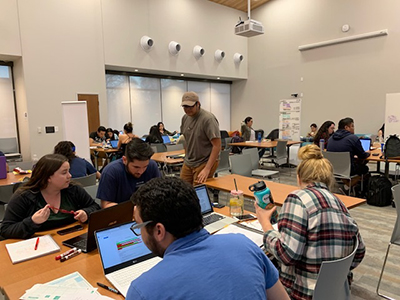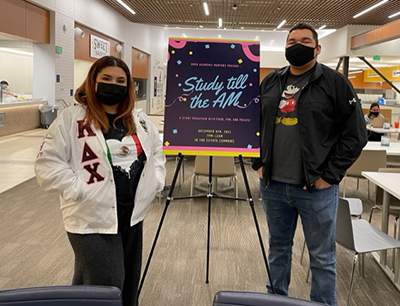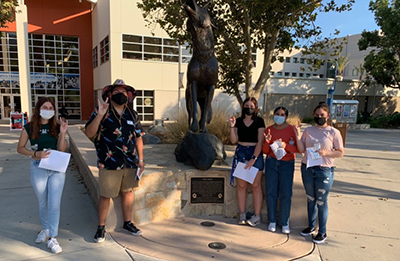 The Department of Housing and Residential Education's academic mentor program was created five years ago to help CSUSB students transition to college life, while living on campus. The program supports first-year and transfer students in understanding the academic demands of college, while also learning to live on their own for the first time. For continuing students, academic mentors help them determine their academic and/or professional goals, while ensuring they are on track to graduate on time.
"One of the goals for the academic mentors is to help the campus feel a little bit smaller," said Timothy Bethune, Academic Initiatives  and Student Success Specialist. "The academic mentors help residents create study groups, while also ensuring they find the best resources on campus to answer their questions."
Academic mentors are available to all CSUSB students living on campus. They are responsible for providing academic support and campus engagement opportunities to residents in their assigned residential village. This is accomplished through monthly academic workshops, recognizing residents for their academic accomplishments, weekly office hours, intentional outreach to students who struggled the previous semester, and creating opportunities for students to study together.
"I'm always amazed by the creative and unique academic workshops our academic mentors host every month," said Timothy. "They take the time to get to know their residents and develop workshops around common concerns they hear from their students."
Added Timothy, "In addition, our academic mentors are here to help any student, regardless of major or class standing."
To connect with an academic mentor, residents can drop in for a meeting or simply ask a question during the advisor's office hours. If residents cannot connect with their academic mentor during office hours, they can email them to schedule a meeting. Residents can also stop by to see if their academic mentor is available to meet outside of their office hours.
Stay connected and follow the Department of Housing and Residential Education on social media: Twitter, Facebook, and Instagram.  
To access information about the Department of Housing and Residential Education, click here