Undocumented Student Success Center Peer Mentors Help Students Navigate Classes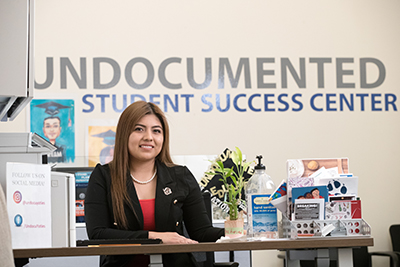 The Undocumented Student Success Center (USSC) is one of 21+ departments in Student Affairs. It is a welcoming space for undocumented students and allies to connect with each other and get support, resources, and services. In spring 2020, USSC peer mentors were established as part of the Catalyst grant. Peer mentors are instrumental in keeping students engaged and informed about Undocumented Student Success Center programming. Peer mentors are also essential to the California Dream Act Application (CADAA) campaign.

They are trained to support students in completing and submitting the CADAA. During the past academic year, peer mentors led workshops, hosted engagement activities, managed the center's scholarship directory, and engaged in social media takeovers to facilitate information and resources to students.

"The USSC peer mentoring component is a critical component for engaging students," said Dalia Hernandez, interim Undocumented Student Success Center coordinator. "Peer mentors empower students to build community and provide access to information, resources, and support."

The USSC has six peer mentors, five of which are part of the Inland Empire Fellowship Program. Two peer mentors are assigned to support PDC students; however, all the peer mentors can provide services to both PDC and San Bernardino campus students.

To schedule an appointment with a peer mentor, visit the Undocumented Student Success Center website. Appointments can also be scheduled on the Undocumented Student Success Center's Instagram account @Undocuyoties using the appointment link in the Linktree. Stay connected and follow the Undocumented Student Success Center on social media: Facebook and Instagram. 
To access more information about the Undocumented Student Success Center, click here