ASI Encourages Students to Get Involved at CSUSB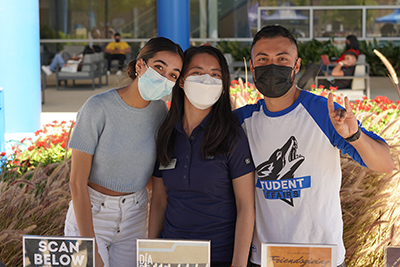 The Associated Students, Incorporated is the recognized voice of the student body and represents the interests, needs, and concerns of CSUSB students to campus leadership. ASI advocates on behalf of students through the committees they serve, the programs and services they support, and student representation at the local, state, and federal levels.
"The Associated Students, Inc. is committed to standing by its motto in all of its services, programs, and advocacy efforts: For the Students, By the Students," said Interim ASI Executive Director Alfredo Barcenas. "The goal of our corporation is not only to represent the interest of students, but to enhance the collegiate experience through the execution of our premiere events, the promotion of student services, and the offering of opportunities to get involved in the decision-making process."
Added Alfredo, "ASI encourages students to get involved early and participate in the shared governance process through volunteer work or representation on our board of directors. Students who are looking to start their leadership journey or are ready to represent their fellow peers are encouraged to run for office in the spring semester or to visit our website at asi.csusb.edu for more information on what ASI has to offer."

ASI provides the following services:
CAB Funding: The Club Allocation Budget offers funding to chartered campus clubs and organizations for on-campus events and conferences.
Graphic Design: The ASI Graphic Design team is made up of talented students who are skilled in providing thoughtful design solutions. The team offers design services for chartered student organizations and clubs on campus.
Box Office: ASI Box Office offers discounted tickets to major theme parks, movie theaters, and other special events for students.
College Legal Clinic: The CLC provides free consultations and attorney referrals for CSUSB students. This service is made up of a panel of attorneys specializing in various areas of law including: family, criminal, real estate, bankruptcy, and immigration.
Programming: ASI hosts events to engage students in curricular and co-curricular activities that foster a sense of community and campus pride.
Scholarships: As a commitment to academic success, ASI offers scholarships through its general fund, as well as to the Athletic and Presidential Academic Scholars programs.
ASI gives students the opportunity to get hands-on experience, gain leadership skills, build a network, and get involved at CSUSB. Call the ASI office at 909-537-5932 or click the link below for more information. Stay connected and follow ASI on social media: Facebook, Instagram, Twitter, and YouTube.