Student Affairs Hosts Inaugural Latina Leaders Actualizing Agency Conference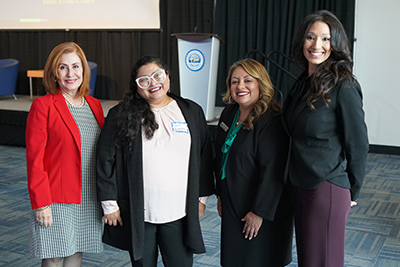 The inaugural Latina Leaders Actualizing Agency Conference was held on Nov. 19 in the SMSU Events Center at CSUSB. The campus community heard from Latina leaders and networked with fellow faculty, staff, and students. Dr. Yvette J. Saavedra, University of Oregon assistant professor, gave the keynote address. She shared her experiences about navigating the education system as a first-generation student, enduring racism, and overcoming setbacks.
A panel discussion was held featuring Veronica Rivas Mittino, deputy district attorney; Dora Xochitl Lopez Mata, founder of Fat Chicana Feminist; and Maria Molina Solano, executive director of the National Latina Business Women's Association. A Q&A took place and participants were able to ask questions. Following the panel, attendees engaged in conversation in round table discussions.
During lunch, the musical group Grupo Bella entertained attendees. With roots in Mariachi, the group performed a broad assortment of music spanning many different cultures, genres, and time periods. The day concluded with participants learning about different departments in Student Affairs, local businesses, and how to get involved at CSUSB during the tabling portion of the event.