CSUSB Alumnus Serves University for 16 Years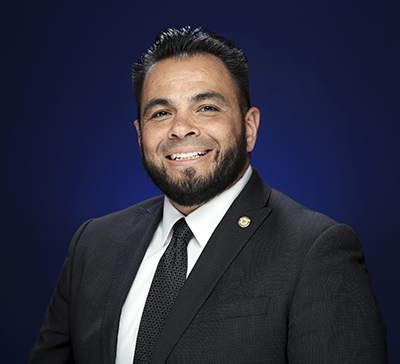 Meet Jesse Felix! He is the Interim Executive Director of the Santos Manuel Student Union (SMSU) and Recreation and Wellness. Jesse joined the Coyote family in 2005 and has worked in higher education for 16 years. He started in the Admissions department before working in a variety of roles at CSUSB, including student programmer, graduate assistant, operations assistant, operations manager, and service coordinator in the SMSU; interim associate director of Recreation and Wellness; and executive director of Associated Students Inc.
In his current role, Jesse ensures students' voices are heard and works with his team to provide the services and resources students want and need. He wants students to feel empowered to be able to connect with the SMSU team to help guide their efforts. Jesse works closely with the SMSU board of directors, which consist primarily of students, to ensure the student union serves the diverse needs of the campus community.
The best part about Jesse's job is making a difference and "the ability to positively impact the community." 
The SMSU is the social hub on campus and helps students get the most out of their college experience. It is a go-to place for students to gain leadership opportunities, connect, and build community. Programming is another component of the SMSU. It provides a variety of cultural, social, educational, and recreational activities, programs, and events to the campus community.
According to Jesse, the SMSU provides safe spaces for students to learn about themselves, identities, and cultures; find refuge; and grab a meal. In addition, it provides facilities that focus on students' health and well-being, as well as employment opportunities to gain hands-on experience, which will prepare students for success after graduation.
The Santos Manuel Student Union broke ground on a three-story, 120,000-square-foot expansion in July 2019. The $90 million expansion will be constructed immediately north of the existing student union and will open next year. With the SMSU expansion, students can look forward to an increase in employment opportunities next semester.
"This expansion is creating another 52 jobs for students and a bunch of different programming spaces," said Jesse.
Some additional features of the expansion include a new amphitheater for concerts, programs, and events; eight-lane bowling alley; The Retreat, a wellness center focused on the health and well-being of students; and larger spaces for the affinity centers. Space at the Palm Desert campus will also be repurposed and reutilized to best serve the students.
Call the SMSU office at 909-537-5940 or click the link below for more information about the Santos Manuel Student Union. Stay connected and follow the SMSU on social media: Facebook, Instagram, Pinterest, Twitter, and YouTube.