Get to Know the Chair of the SMSU Board of Directors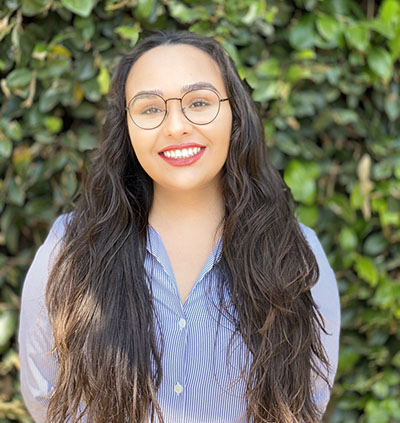 Meet Julia Ruiz! She is the Chair of the Santos Manuel Student Union (SMSU) board of directors. Julia helps to oversee the SMSU and Recreation and Wellness Center. In her role, Julia meets with CSUSB administrators, leads the board's monthly meetings, and speaks at events.
The SMSU board of directors is an incorporated body that acts as an auxiliary organization of the university to oversee the operations of the SMSU and the Student Recreation & Wellness Center. Ultimately, the board serves the students and represents their interest and voice.
Julia, a kinesiology major with a concentration in applied health, has held a few positions in the SMSU, starting off as a student representative for the board of directors and working her way up to controller and now chair. However, Julia had to work to get where she is today.
"I applied to be a student representative for the board of directors, and I didn't get it," said Julia. "I always tell people this because I think it's such an important aspect of leadership — being told no but being persistent."
The term for the chair position at the SMSU is usually a year, but Julia's term will be longer. When the previous board of director's chair graduated in 2020, Julia stepped in to finish the term and was later nominated to serve as chair for the 2021-22 academic year.
Julia has big plans for the year ahead. She plans to work will the Kinesiology and CNS college to further develop the new Wellness Center, which opened this year. Her goal is for the Wellness Center to be a space dedicated to the health and well-being of students.
Two new centers will also be created, the graduate student success center and financial literacy center. The graduate student success center will focus on providing resources and services to students pursuing graduate school. According to Julia, the financial literacy center will help students navigate the financial components of adulthood, managing a family, lifestyle, and education.
After graduation, Julia plans to work in the medical field and become a physician's assistant. Julia is indigenous, and it is important for her to serve underprivileged communities. Ultimately, she would like to go back to reservations and ensure that quality healthcare is provided.
Call the SMSU office at 909-537-5940 or click the link below for more information about the SMSU board of directors. Stay connected and follow the SMSU on social media: Facebook, Instagram, Pinterest, Twitter, and YouTube.
To access more information about the SMSU board of directors, click here