Students Use Talents to Inform Yotes about Events and Resources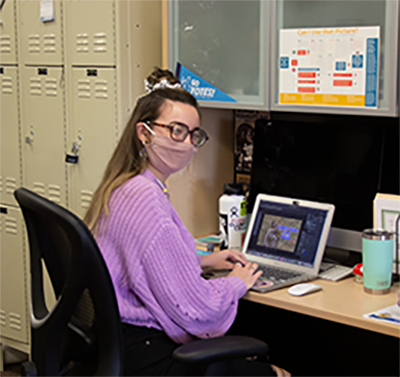 - McKenzie Balderrama
- Sotheara Ly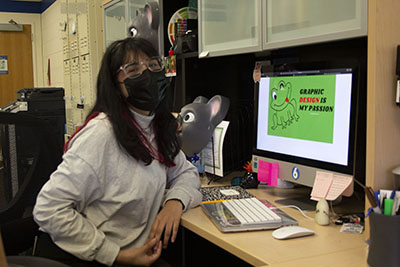 - Allison Enriquez
The Santos Manuel Student Union is the campus social hub and one of the 21+ departments in Student Affairs. It's Marketing department offers a variety of services to the affinity centers and on-campus departments, including graphic design, photography, and communication/social media strategies.
Students are given the opportunity to hone their skills and gain hands-on experience through the department's leadership and employment opportunities. Some of the graphic design services the SMSU Marketing department provides includes posters, banners, booklets, invitations, and more.
Sotheara Ly, a fourth-year graphic design and marketing student, has worked in the Marketing department on the graphics team for nearly a year. As a student assistant, he creates promotional material for the events hosted by the affinity and identity centers in the SMSU.
For students not familiar with the graphic design services available, Sotheara wants the campus community to know that their services are available to everyone.
"We don't just advertise for the centers in the student union," said Sotheara. If you have anything you want to be made, let us know by emailing us at smsumktg@csusb.edu and we'll work something out."
Allison Enriquez, a fourth-year graphics major, has also been a part of the graphics team for nearly a year. The best part about her job are the people she gets to work with.
"I love working alongside other student graphic designers because we get to bounce ideas off one another and watch our designs go from sketches to printed posters around campus," said Allison. "Also, as a student assistant, I feel that I've created a deeper connection to the university because of all the events I'm attending and all the resources that I've learned about."
Added Allison, "I'm very happy and grateful for all the growth opportunities that have been made available to me."
For McKenzie Balderrama, a fourth-year graphic design student, a highlight of her position as a student assistant is the hands-on experience she is gaining.
"I would have to say that the best part of my job is getting to do what I love, right now," said McKenzie. "I never thought I'd be so lucky to work as a graphic designer before I graduated. There is always so much variety across all my projects, and it is so cool seeing things I created out in the 'real world.' "
"If you are into photography, videography, communications, or graphic design, I would wholeheartedly recommend working here if we have any positions available," said Sotheara. "Every assignment is used as a learning opportunity to sharpen my skills, and I am always learning something I know will help me further my career."
You can start the graphic design work order process by submitting a graphic design request form. The Marketing department provides consultations to discuss projects and answer questions.
Stay connected and follow the SMSU on social media: Facebook, Instagram, Pinterest, Twitter, and YouTube. Call the SMSU 909-537-5940, or click the link below for more information.