Tea with the VP and Road Show Introduce PDC Students to Programs and Services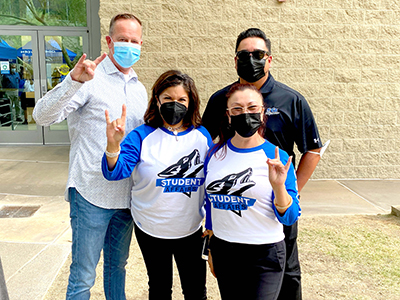 Tea with the VP and the Student Affairs Road Show kicked off this fall at the Palm Desert Campus on Thursday, Oct. 7. Students were able to attend both events back-to-back. Tea with the VP took place first at 10 a.m., followed by the Road Show at 11 a.m.
At Tea with the VP, students enjoyed light refreshments, learned what's going on in Student Affairs, and shared how we can help them succeed at PDC.  
Each department in the division showcased their resources and services at the Road Show. Our goal was to create a greater awareness about the division and enhance our presence on campus.
 
Students received a Road Show passport that was filled out by stopping by and learning more about our departments. Once completed, they were entered into a drawing to win prizes. Check out photos from the event on Instagram @CSUSBStudentAffairs and follow us for all the latest information. The Road Show will make its next stop at the San Bernardino campus on Thursday, Nov. 4.
Stay connected and follow us on social media: Instagram, Flickr, and YouTube.
To access more information about the Division of Student Affairs, click here