Women's Resource Center Provides an Inclusive Space for Students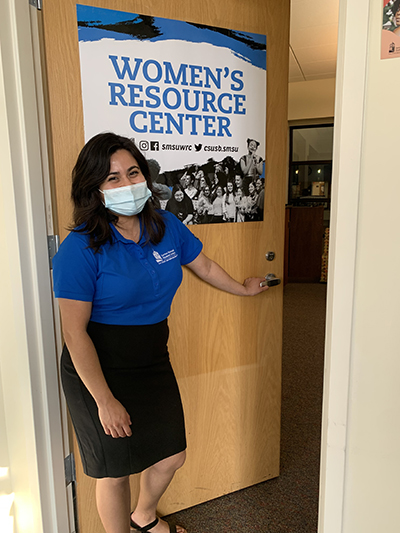 - Paloma Hinojosa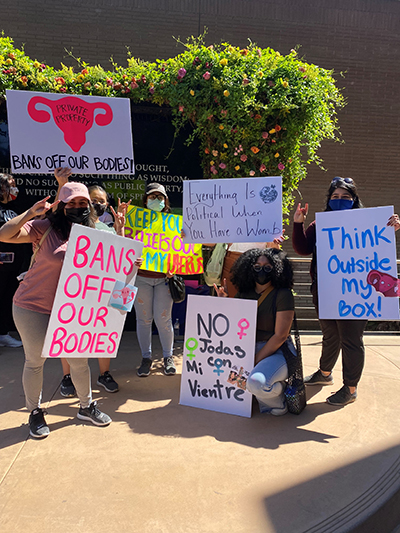 - Women's Resource Center at 2021 Women's March
The Women's Resource Center (WRC) provides a welcoming and inclusive environment for all students. It is a place for students to gather, gain support, and learn tools for social change.
Paloma Hinojosa, coordinator of the Women's Resource Center, joined the Coyote family in April. In her role, she oversees the daily operations of the center, which includes programming, coordinating events, and supervising her team of student assistants.
According to Paloma, the center provides services, programs, and events that focuses on topics or issues that affect the lives of women; however, the center is available to all students, not just women.
The center provides students a variety of services, including a resource library, where books are available to take and borrow; free hygiene items, such as pads and tampons; and access to computers, internet, and email.
One of the WRC's most popular resources is its free black-and-white and color printing services. Students can print up to four pages daily (eight pages double sided). The center also provides a microwave and refrigerator for students to use throughout the day.
This semester, the center has hosted eight events. The WRC collaborated with the Queer and Transgender Center in October to host Be A Cookie, not a Cookie Cutter. The event focused on body empowerment and positivity. The campus community was invited to join the conversation on Tuesday, Oct. 19, from 12-1:30 p.m.
For Paloma, the best part about her job are the students.
"I'm just very grateful for those moments of connection I can have with the students who come into the Center," said Paloma. "That whole relationship with the students is so valuable to me."
The center is open Monday-Thursday from 8 a.m.-7 p.m. and Friday from 8 a.m.-3 p.m. Follow the Women's Resource Center's Instagram @smsuwrc for additional resources. Call 909-537-7203 or click the link below for more information.
To access information about the Women's Resource Center, click here