Student-Athletes Return to Competition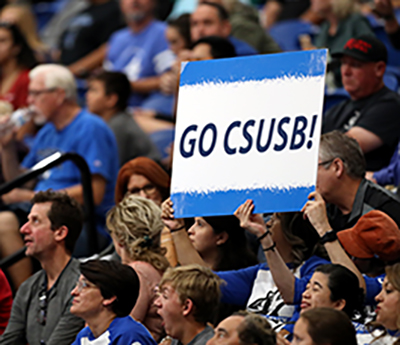 The return to campus marked the return to competition for our CSUSB student-athletes who were sidelined due to the pandemic. This fall, four teams will be competing: women's cross country, women's volleyball, and men's and women's soccer. The teams have a lot to look forward to this season:
Women's volleyball is ranked No. 3 nationally in the preseason polls.
Men's soccer is ranked No. 5 nationally in the preseason polls.
Women's soccer is off to a winning start in its inaugural season under first-year head coach and CSUSB alum Mark Peters.
Athletics Director Shawn Chin-Farrell oversees the 10 sports teams at CSUSB. An accomplished administrator, Shawn joined the Coyote family in 2017 with more than 13 years of experience in collegiate athletics. He brings a unique combination of expertise in athletics, law, and coaching to the university.
"I am incredibly proud of our student-athletes, coaches, and staff with how they have handled the past 18 months," said Shawn "Everyone is tremendously excited to participate in their passion, intercollegiate athletics. We are very excited to share that passion with all of you, our CSUSB family."
Shawn added, "Our commitment to the health and well-being of our Yotes community is demonstrated in our over 97 percent vaccination rate. We will continue to strive to reach 100 percent. We look forward to seeing you at a game this fall, masked up, cheering loud for your Yotes student-athletes."
Tyrell Henderson is looking forward to getting back on the court this winter as a member of the men's basketball team. Winter season kicks off in October, and Tyrell, a CSUSB alumni and Master of Public Administration graduate student, is counting down the days.
Tyrell was one of many student-athletes who had their seasons affected by the pandemic.
"It was tough having our season cut short," said Tyrell. "That was probably the hardest thing was seeing other teams play while we're at home waiting."
Tyrell added, "It's really a surreal feeling seeing people back on campus. Being back with my teammates, being back in the locker room, being back in a regular swing of things is the best part about it."
With a new season, comes new goals, and Tyrell has big plans for the season ahead.
"I'm looking forward to playing with my new teammates, and I'm looking forward to competing for a national championship because I think that we have the talent to do so," said Tyrell. "It's just all about us working every day and working towards that goal."
This year, all home games are open to the public, and for fall season, home games are free. Safety remains a top priority, so attendees will be required to complete a daily health screen and follow all university mandates, including wearing a mask at all times while indoors.
CSUSB will be hosting the CCAA Women's Volleyball Tournament in November. The event is open to the public. However, the CCAA will charge admission to all attendees.
Follow Athletics on Facebook, Instagram, Snapchat, and Twitter to get the latest information about upcoming events. Call 909-537-5011 or click the link below for more information.