Student Ambassadors Help Yotes Receive Basic Needs Assistance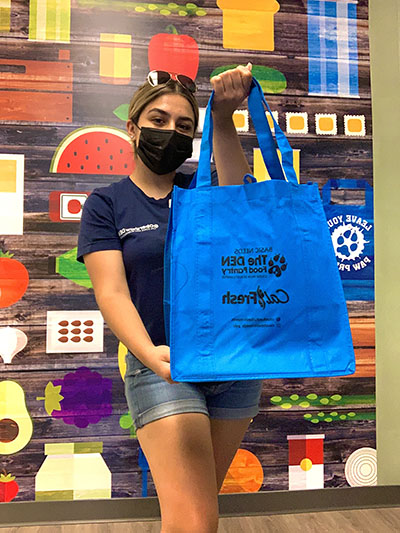 Juliet Aguilar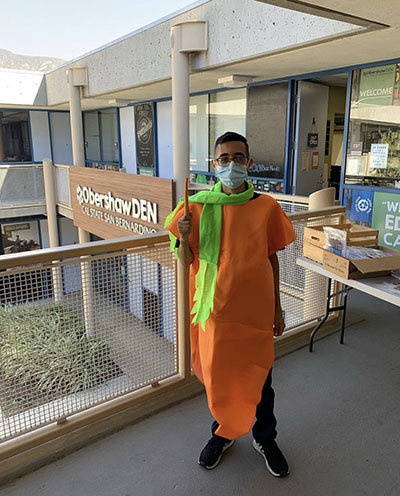 Michael Dominguez
Basic Needs is one of 21-plus departments in Student Affairs that provides services and resources to students. The department is broken down into four key areas: student wellness and food insecurity, housing insecurity, and financial security programs.
The department is led by Basic Needs Coordinator Natalie Cleary and her team of dedicated student assistants. She currently has nine student employees between the San Bernardino and Palm Desert campus pantries  — Obershaw DEN and PDC DEN — and will be hiring three more to join the CalFresh Outreach team.
"Our student employees serve as Basic Needs ambassadors, helping to alleviate the stigma students may feel about getting services from Basic Needs," said Natalie.
The students' day-to-day responsibilities consists of outreach, including tabling and keeping Basic Needs relevant on social media. They also assist in daily operations of the food pantries on both CSUSB campuses, such as restocking shelves, sorting perishable and non-perishable items, and assembling Coyote Meal Kits and Hygiene Kits. In addition, the student employees provide assistance with CalFresh Outreach applications and activities.
"I am so grateful for the amazing student assistants who work in the Basic Needs program," said Natalie. "As a small department, we rely heavily on our student team to really provide direct service to our students."
Added Natalie, "Throughout the pandemic the student assistant team came to campus three days a week to open the campus pantries and kept in-person services going. Our student staff is very knowledgeable and go out of their way to ensure they connect students to resources and encouraging them to take advantage of services."
Student assistant Michael Dominguez has worked in Basic Needs for two years.
In his role, he helps students in need with food insecurity and provide them other services, such as CalFresh, which provides students with money each month for groceries.
"The best part about my job is knowing I made an impact in my community and helping fellow students that are struggling," said Michael. "Knowing that I can provide the aid some people need is the best part of my day."
He wants students to know that Basic Needs is free to any student enrolled at CSUSB and provides multiple services, such as free groceries from the DEN, CalFresh, and temporary housing. 
Juliet Aguilar, a third-year Child Development major, is another member of the Basic Needs student assistant team. She has worked in Basic Needs for over a year and a half. In her role, she makes sure students are comfortable coming into the DEN and informs them about the services Basic Needs provides. She also assists students with CalFresh, as well as obtaining groceries or quick snacks.
"The best part of my job, I would say, is meeting new students and interacting with them," said Juliet. "For students who have yet to hear about the Basic Needs program, feel free to stop by the DEN in the Palm Desert Campus, room HS-118, and meet our wonderful staff. We are here to help!"
To access the Obershaw DEN on the San Bernardino campus, visit Faculty Office 237. To access the Palm Desert DEN on the Palm Desert campus, visit the Health Sciences Building, Room 118.
Follow Basic Needs on Instagram @CSUSBBasicNeeds and @CSUSBBasicNeeds_PDC to find out about upcoming events and resources. Call the Obershaw DEN at 909-537-3663 or Palm Desert Campus DEN at 909-537-8173, or click the link below for more information.