All Self-Certified Students Eligible for Free Coyote Pride T-shirt & Vaccinated Students Eligible for Other Prizes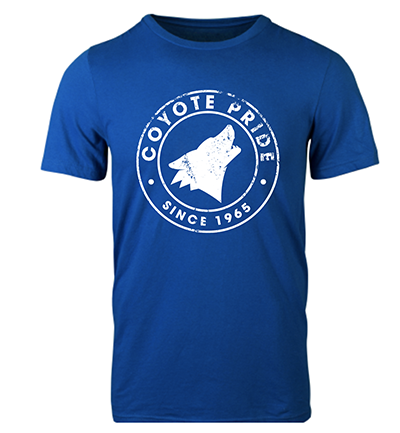 All students (regardless of vaccination status) who completed their COVID-19 Student Self-Certification form in their myCoyote portal are eligible for a free CSUSB Coyote Pride t-shirt. T-shirts will be available for pickup beginning Sept. 30 at the Santos Manuel Student Union Information Desk at the San Bernardino campus and Rancho Mirage Student Center at the Palm Desert campus. 
All vaccinated students are entered to win prizes! The grand prize is one semester of free tuition (up to $3,708). Other prizes included two-day Disneyland tickets (valued at $235/ticket), one semester of free parking, book store gift cards ($10-$500), and dining dollar plans ($5-$500).
Vaccinated students who shared their experiences on Instagram about why they got vaccinated and/or reposted slides found on the @CSUSBStudentAffairs Instagram account prior to September 20th will also be selected to win additional prizes. Pictures and videos were shared on Instagram explaining why students got vaccinated using special IG templates and included the hashtag #ProtectThePack. Selected winners will receive CSUSB swag and $25 Amazon gift cards! 
Vaccination remains the surest, swiftest way each of us can not only safeguard our own health, but also our family members and peers. Book your vaccination today at MyTurn.CA.Gov!