Long Time Cal State Professional Leads Recreation and Wellness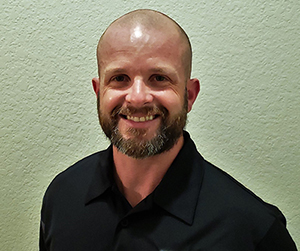 Meet Vilayat Del Rossi! He is the director of Recreation and Wellness. Del Rossi joined the Coyote family in 2017 and has worked in the Cal State system for 16 years, previously working at both Cal Poly Pomona and Cal State Long Beach.
In his role, Del Rossi helps to organize, empower, and provide the resources for all of the programming entities for Recreation and Wellness, as well as the infrastructure and facility to help the department deliver innovative and quality programs that help develop a well-rounded, healthy individual.
A goal for the department is to develop and deliver innovative and diverse programs and services that help supports someone's overall health and well-being. Since going virtual, Recreation and Wellness has found new ways to keep the campus community active with their numerous online programs and services.
The Fit Well group, which is part of Be Well Yotes, deliver online personal training and 35-plus virtual classes a week. Next semester, they will be partnering with the departments' competitive sports groups to create monthly outdoor challenges. Each month, a new mobile app and different challenge will be introduced to the campus community and facilitated by the Fit Well group. 
The intermurals have begun working in the e-sport realm, partnering with ASI and SMSU. More fantasy leagues will be launched, and the Leadership Challenge team is now offering the campus community free virtual team building activities in 15-, 30-, and 60-minute sessions.
Highly discounted tickets to local outdoor venues are still available as well. The Recreation and Wellness department offers tickets for bike rentals in Santa Monica, stand up paddle boarding at Sunset Beach, and lift tickets for local ski resorts.
In his role, Rossi enjoys "preparing [students] for the workforce, preparing them for the next steps in their lives so they have those transferrable skills to be successful with whatever they want to do, whether its grad school, or start a nonprofit, or go into the workforce, or do whatever they want to do," said Rossi.
He added, "Knowing that we have an important charge to make sure they are prepared for that, and when you add that we are responsible for their health and well-being — that's a win-win for us."
Follow Recreation and Wellness on social media to stay up to date on the latest events and resources: Facebook, Instagram, and Twitter. Call the Recreation and Wellness office at 909-537-2348 or click the link below for more information. 
To access information about Recreation and Wellness, click here