Students Collaborate to Create Dish It Out Event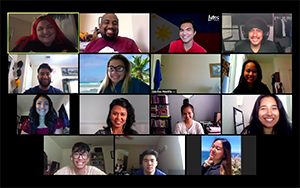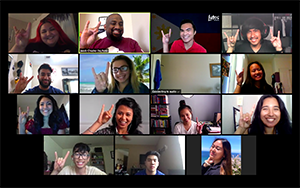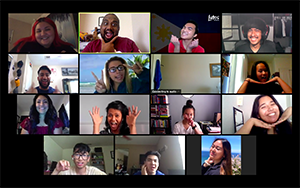 The student-led event Dish It Out was held Oct. 7 during Hispanic Heritage Month and Pilipinx American History Month. Kappa Delta Chi Sorority, Lubos Paso, and students in the SMSU LatinX Center and SMSU Asian and Pacific Islander Center worked together to host the virtual event.
Jacklyn Chanocua, a third-year biological psychology major, helped spearhead the program and bring it to fruition. Chanocua is the student lead in the SMSU LatinX Center and serves as president of Kappa Delta Chi Sorority and the Multicultural Greek Council. According to Chanocua, the special projects committee in her sorority came up with the initial idea for the program after being inspired by CSUSB's annual Taste of India event, which showcases the Indian culture through food, dance, and performance. The sorority wanted to do a similar event that focused on the LatinX culture.
Other student clubs and centers were invited to collaborate on the event, such as Lubos Paso, a Filipino-American student organization, and the SMSU Asian and Pacific Islander Center.
The event took a month to plan and involved numerous meetings to hatch out all the details. Third-year student Matt Santos, Vice President of Culture for Lubos Paso, played an instrumental role in his club's participation in the event.
"The Dish It Out event was a way to introduce people to foods around the world that were influenced by Spanish culture," said Santos, a psychology and musical theater major.
Due to being virtual, the students created a recipe book to introduce event attendees to the cultural dishes they presented on during the event.
After the event, a participant shared with Chanocua how excited she was to try out the recipes in the book, "I loved the event, and I also love that you guys came up with the recipe book. That way I can cook and also learn," said the attendee.
Third-year biology major Arjun Mann, student lead at the SMSU Asian and Pacific Islander Resource Center, also played a key role in planning the event.
"I love doing events with other orgs and other students, just to get a different perspective from everyone," said Mann. "In my opinion, that's what the Cross Cultural Center stands for. That's our goal, diversity and inclusivity.  
Mann added, "Every different organization has different viewers, has a different audience, so when we all come together, it brings everyone together."
Call the SMSU office at 909-537-5940 or click the link below for more information. Stay connected and follow the SMSU on social media: Facebook, Instagram, Pinterest, Twitter, and YouTube.