Seasoned Student Affairs Professional Earns President's Outstanding Employee Award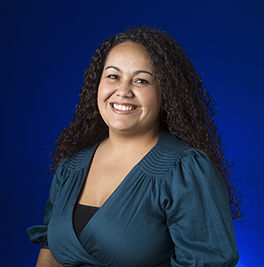 Meet Natalie Cleary! She is the Basic Needs coordinator and a recent recipient of the President's Outstanding Employee Award. Cleary received the award in August at this year's Convocation.
"I was very grateful and appreciative that the efforts I have been making over this last crazy year with the Basic Needs program people are noticing, and it is making a difference in students' lives," said Cleary. "I do what I do because I love working with students."
Each summer, up to two staff employees are selected to receive this award based on their performance in the previous fiscal year. During the nomination period of May through June, eligible employees may be nominated for their overall job performance against the following criteria: dedication, job performance, service, and diversity and/or community outreach.
Cleary was one of two staff members in Student Affairs to earn the award this year. As an award recipient, Cleary receives a plaque, $1,000 in Coyote cash, CSUSB music and theater tickets, membership to the Robert and Frances Fullerton Museum of Art at CSUSB, general admission tickets to all athletic events, and a VIP staff parking space.
She has been a part of the Coyote family for 19 years. During her time at CSUSB, she has worked in Student Affairs in a variety of roles and departments. Cleary began her tenure in Services to Students with Disabilities, assisting students with academic accommodations; Office of Student Engagement, formally Student Leadership and Development; Clubs and Organizations; Sorority and Fraternity Life; and Department of Housing and Residential Education.
In her current role, she oversees Basic Needs, which is broken down into four areas: food insecurity programs, housing insecurity programs, financial security programs, and student wellness. The food insecurity programs include the food pantries, and the financial security programs consist of all the university grant programs offered through Basic Needs. For student wellness, Cleary works in collaboration with the CARE Team and on- and off-campus partners.
Cleary had big plans for the department this year and launched a few initiatives:
Basic Needs Emergency grant program: It was established to assist CSUSB students experiencing unexpected urgent financial need by removing financial roadblocks to degree completion and well-being. Since its launch in May 2020, more than $100,000 has been awarded to those in need.
Swipe Out Hunger Emergency Meal Program: Existing CSUSB meal plan users can donate one meal swipe to Yotie Eats each semester from their meal plan. The meal plan donation program allows CSUSB donated meals to go into a pool which can be used to provide access to Yotie Eats for students who might otherwise go hungry.
Increasing health education on nutrition: Basic Needs has partnered with the Health Science and Nutrition program on campus. Together, they are teaching students how to buy and prepare healthy food on a budget.
Expansion of The Obershaw DEN: The Obershaw DEN will be moving from its current 330 square foot location to a new space with 1,600 square feet. It will be taking over the location of The Blue Coyote Pub in the Santos Manuel Student Union. The additional space will create a new Basic Needs Center and expansion of the food pantry.
Follow Basic Needs on Instagram @CSUSBBasicNeeds and @CSUSBBasicNeeds_PDC for additional resources.