Upward Bound Continues to Build Pipeline to Higher Ed Virtually for Local Students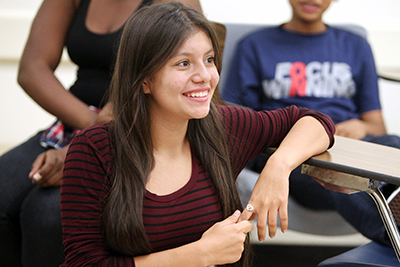 All 21-plus departments in Student Affairs are available to students virtually, including Upward Bound. The department will continue to offer all of their regular services, just remotely.
"In Upward Bound, we will continue to provide all program services via virtual formats until it is deemed safe to return to in-person programming," said Daila Hernandez, director of Upward Bound. "Participants will have access to all services including tutoring, advising, college career readiness sessions, college application and financial aid guidance and assistance, supplemental instruction, STEAM modules, social/emotional skills development, virtual college visits, other educational/cultural enrichment activities, and parent/family engagement sessions."
Upward Bound services more than 150 high school students from San Bernardino and Rialto. Funded in 2007 by a grant from the U.S. Department of Education, Upward Bound is a federal TRIO Program designed to help provide high school students with educational and personal support services that increases high school graduation and college enrollment and persistent rates.
"Since the Covid-19 pandemic, all Upward Bound services and programming has been redesigned to be delivered via virtual platforms in a manner that meets participants where they are at," said Hernandez.
Since going virtual, the department has begun using online platforms Google classroom, cranium café, Google suite, Zoom, and Instagram to stay connected with students.
"One of the program's components is Summer University; this year it was held entirely in a virtual format," said Hernandez. "A new journey for both our students and our staff. As a result, more than 70 students participated in mathematics, English, foreign language and Science instruction, STEAM hands-on modules, wellness modules, college, career readiness sessions, and job shadowing/internship placements."
Follow Upward Bound on social media to find out about upcoming events and resources: Facebook, Instagram, and Twitter. Call the Upward Bound office at 909-537-5023 or click the link below for more information.