CSUSB Relives Volleyball Championship at Homecoming Watch Party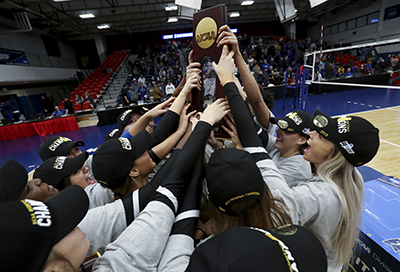 CSUSB Athletics relived the greatest accomplishment in department history with an interactive watch party of the 2019 NCAA Division II National Championship as part of CSUSB's Homecoming@Home on Facebook Live on Oct. 16.  In addition to reshowing the original broadcast, head coach Kim Cherniss, NCAA Division II National Player of the Year Alexis Cardoza, and fellow coaches and student-athletes provided live commentary and answered questions during sets one and four. Sets two and three featured a fun facts and pop-up edition segment.

The event was seen by over 2,600 people with impressive retention over the course of the two-hour event, while being simulcast by the CCAA and NCAA Division II. The watch party served as a great event for CSUSB students, staff, supporters, and alumni to come together to relive the historic night.
Call the Athletics office at 909-537-5011 or click the link below for more information. Stay connected and follow Athletics on social media: Facebook, Twitter, and Instagram.