Get to Know the Chair of the SMSU Board of Directors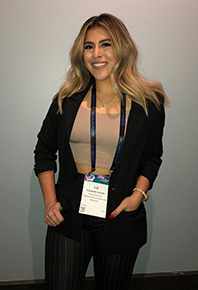 Meet Elizabeth Corella! She is the Chair of the Santos Manuel Student Union (SMSU) board of directors. As chair, Corella meets with CSUSB administrators regularly and serves as a bridge between them and students. This allows her to ensure the student voice is heard and their needs are met.
The SMSU board of directors is an incorporated body that acts as an auxiliary organization of the university to oversee the operations of the SMSU and the Student Recreation & Wellness Center. According to Corella, "It's a board serving the students and really representing their best interest, their voice."
Corella leads the boards monthly meetings, where they discuss a variety of topics, including financial matters, proposals, programs, and more. All of which are done with the best interest of students in mind.
Prior to the SMSU, Corella worked at the Recreation and Wellness Center for nearly four years since her freshman year at CSUSB. During that time, she served as chair of the Recreation and Wellness committee, which was a two-year term.
The term for the chair position at the SMSU is a year. Corella began her term as chair in June but will finish early due to her graduating in December. The fifth-year kinesiology major is going the pre-med route and would like to attend medical school after graduation with the aspirations of becoming an emergency room physician. She currently works as a scribe in a hospital ER. Gaining this hands-on experience has helped Corella determine her career path and make connections with doctors.
This academic year, a goal Corella would like to accomplish is to review the safety policies of the buildings, which not only includes the SMSU but also the Recreation and Wellness Center. She wants to ensure all students feel they are in a safe and inclusive space.
For those who are interested in joining the SMSU board, Corella recommends applying. "Just believe in yourself," said Corella. "Even if you don't have a lot of experience, they still would consider you."
She added, "We always want a student perspective. Take that chance."
Call the SMSU office or click the link below for more information. Stay connected and follow the SMSU on social media: Facebook, Instagram, Pinterest, Twitter, and YouTube.
To access information about the SMSU board of directors, click here