Barragan-Arreguin Earns President's Outstanding Employee Award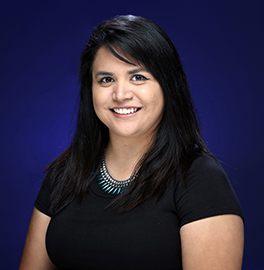 Meet Maria Barragan-Arreguin!  She is the coordinator for the Undocumented Student Success Center and a recent recipient of the President's Outstanding Employee Award. Barragan-Arreguin received the award in August at this year's Convocation.
Once it was announced, Barragan-Arreguin was flooded with well wishes and congratulations from friends and colleagues.
"I was shocked, speechless," said Barragan-Arreguin. "I wasn't expecting it."
Each summer, up to two staff employees are selected to receive this award based on their performance in the previous fiscal year. During the nomination period of May through June, eligible employees may be nominated for their overall job performance against the following criteria: dedication, job performance, service, and diversity and/or community outreach.
Barragan-Arreguin was nominated by Dr. Paz Olivérez, Vice President for Student Affairs.
As an award recipient, Barragan-Arreguin receives a plaque, stipend, and VIP staff parking space, which is something she was looking forward to using.
"That's something I have always wanted, the VIP parking," said Barragan-Arreguin. "I remember as an undergrad, walking by that parking spot and saying, 'One day I will get that.'"
Barragan-Arreguin joined the Coyote family nearly five years ago. In her role, she oversees the day-to-day operations of the Undocumented Student Success Center, which entails grant writing, assisting students, programming, administrative work, and much more. Her goal is to meet the needs of the undocumented student population at CSUSB.
According to Barragan-Arreguin, the best part of her job are the students.
"Meeting with students. Talking to students. Getting to know their stories. The challenges they have faced and how far they've come," said Barragan-Arreguin
To access information about the Undocumented Student Success Center, click here