Fellowship Program Provides Students Professional Development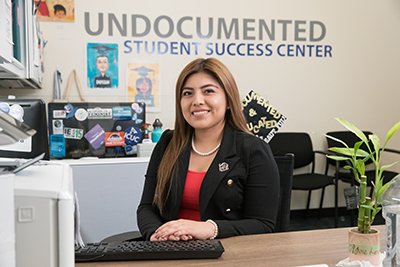 Growing Inland Achievement (GIA) named CSUSB's Inland Empire Fellowship Program as the recipient for the 2020 Innovation Award, which will be used to recruit and train 22 academic fellows per academic year from the CSUSB Undocumented Student Success Center and class of 2020 alumni from the Office of Pre-College Programs. 
GIA Innovation Award funding provides $150,000 over two years, which is given to organizations with plans to support and facilitate student success in the bi-county region of San Bernardino and Riverside counties. CSUSB was one of four organizations selected for the award.
The award brought the fellowship program to fruition, which officially launched in August. The first cohort will end in June 2021 and then a second cohort will serve August 2021-June 2022. Fellowship participants will receive professional development, while working on completion campaigns, mentoring, and advising students toward achieving college degrees.
Each student has the opportunity to work on one of three projects of their interest. The projects are overseen by mentors, who will be a resource and help guide the students during the program. The projects include:
Bringing awareness about the intersectionalities within the undocumented community through marketing.
Working with eighth and ninth graders and their families to discuss college readiness topics, such as financial aid and A-G requirements.
Conducting research with a CSUSB faculty member that focuses on mental health.
Students must complete 300 service hours and will receive a stipend of $3,000 for their participation in the fellowship.
The program is overseen by Maria Barragan-Arreguin, coordinator of the Undocumented Student Success Center, and Summer Steele, director of GEAR UP and Cal-SOAP. According to Barragan-Arreguin, students will also attend workshops throughout the year as part of their professional development. Providing students with hands-on experience led to the creation of the fellowship program.
"The inspiration came from discussions we had about undocumented students who don't have DACA or don't have a social security number and not having the opportunity to gain professional development experience," said Barragan-Arreguin.
To access information about the Inland Empire Fellowship Program, email iefp@csusb.edu.