Check Out Coyote Connection – The Hub for Student Life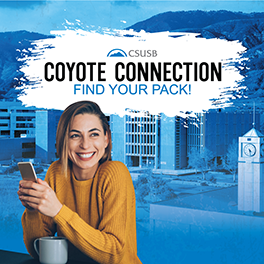 Check out the Coyote Connection events happening all year long, featuring the brand-new Coyote Hour, a designated time each week on Tuesday and Thursday from 12-12:50 p.m. when most students have no classes scheduled. All the events are virtual and open to students. Use the time to explore a program you are interested in, try something new, and meet your fellow Coyotes! Access Coyote Connection events on your myCoyote portal or visit csusb.campuslabs.com/engage. 

Coyote Hour is part of a university-wide initiative to get students involved at CSUSB through online programs and activities. The initiative is led by Vice President for Student Affairs Dr. Paz Olivérez and a coordinating committee that includes faculty, staff, administrators, and students.
The committee will be creating some of the events for Coyote Hour. However, departments across campus are encouraged to use this time to engage students in their own programs and events.
Students will also have the opportunity to participate in Coyote Spirit events, where they can engage with peers and win CSUSB swag and other prizes.
To access Coyote Connection, click here