The STEM Center provides services for students in our program within the six STEM (Science, Technology, Engineering, and Mathematics) disciplines at CSUSB.
Biology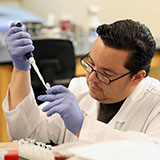 The Department of Biological Sciences offers a B.S., minor, and M.S. in Biological Sciences. They also offer a certificate in biotechnology. The Department of Biology offers a dynamic and modern program in biology that prepares students both academically and practically for vocations in science and science-related fields, or for entry into graduate studies.
Chemistry and Biochemistry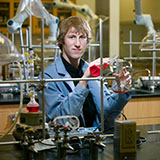 The Department of Chemistry and Biochemistry serves students who have a variety of interests. You can select from two degree programs, Chemistry or Biochemistry. In either program, you will use computers and sophisticated equipment and instrumentation early in your studies. The curriculum integrates the practical and theoretical aspects of chemistry in a way that provides you with a comprehensive knowledge base and a special confidence in using modern scientific equipment. Students who complete the B.A. or B.S. program may continue for further training in a M.S. or Ph.D. program or seek employment as a biochemist, forensic chemist, analytical chemist, inorganic chemist, organic chemist or technical sales representative.
Computer Science and Engineering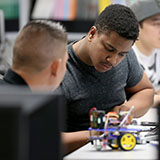 The School of Computer Science and Engineering educates students in the disciplines of computer science and computer  engineering, and teaches them to apply their education to solve practical problems in a socially responsible way. Preparing computer professionals for Inland Empire industries, the School of Computer Science teaches the development of software using current technology. Many disciplines involve computer technology, but what distinguishes this department is its focus on the theory, tools and techniques used to design computer systems and build application software. Students may study for the B.S. or M.S. in Computer Science, the B.S. in Computer Engineering, the B.A. in Computer Systems, or the B.S. in Bioinformatics.
Geological Sciences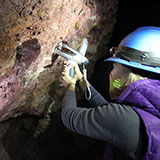 The Department of Geological Sciences provides a solid grounding on the core principles of the geology. A B.A. or B.S. graduate in geology could be employed as one of the following professions: hydrologist, geophysicist, geochemist, environmental scientist, oceanographer, geological surveyor, paleontologist, energy and resource explorer, or city planner.
Mathematics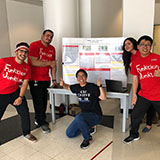 The Department of Mathematics offers a variety of degrees and emphases designed to provide several blends of mathematics and specialties to the student. The B.A., B.S., and M.A. programs prepare students to solve problems. The undergraduate degrees can prepare you for a quantitative reasoning related job in the public or private sector, a career in teaching, or an advanced degree. The Master of Arts degree is intended for those wishing to pursue a career in teaching at the community college level or who wish to go on to study for a Ph. D. in mathematics or a related field.
Physics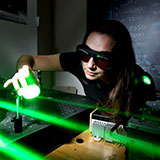 The Department of Physics has a focus on undergraduate instruction and research with unusual opportunities for students to work closely with faculty and to become involved with scientific instruments and equipment. While seeking a B.S. or a B.A. degree in physics our students may choose to emphasize astronomy, applied physics, science education or a program of advanced preparation for graduate study in physics or related fields.