Career and Professional Development
Are you in need of assistance in finding a STEM career that best suits you? The MBTI (Myers-Briggs Type Indicator) is a personality assessment indicating your preference on how you perceive the world around you and make decisions. STEM Counselors are here to support students in developing awareness and self-evaluation by preparing them for a successful life and innovative careers. We engage students in personal development to build resilience and support of self and others. Please call (909) 537-7345 to set up an appointment with your STEM Counselor to explore your MBTI and career opportunities.
Student Engagement
The STEM Center offers various student engagement opportunities, resources, and events throughout the year. These events are specifically created to help students increase interaction and learning opportunities within their STEM field, network with fellow classmates, and build a sense of community while at CSUSB.
STEM Center Upcoming Events
With the move to virtual learning during the 2020-2021 academic year, all events/workshops have been moved to ZOOM until further notice. Please browse our events calendar and join us at these exciting events! We look forward to seeing you!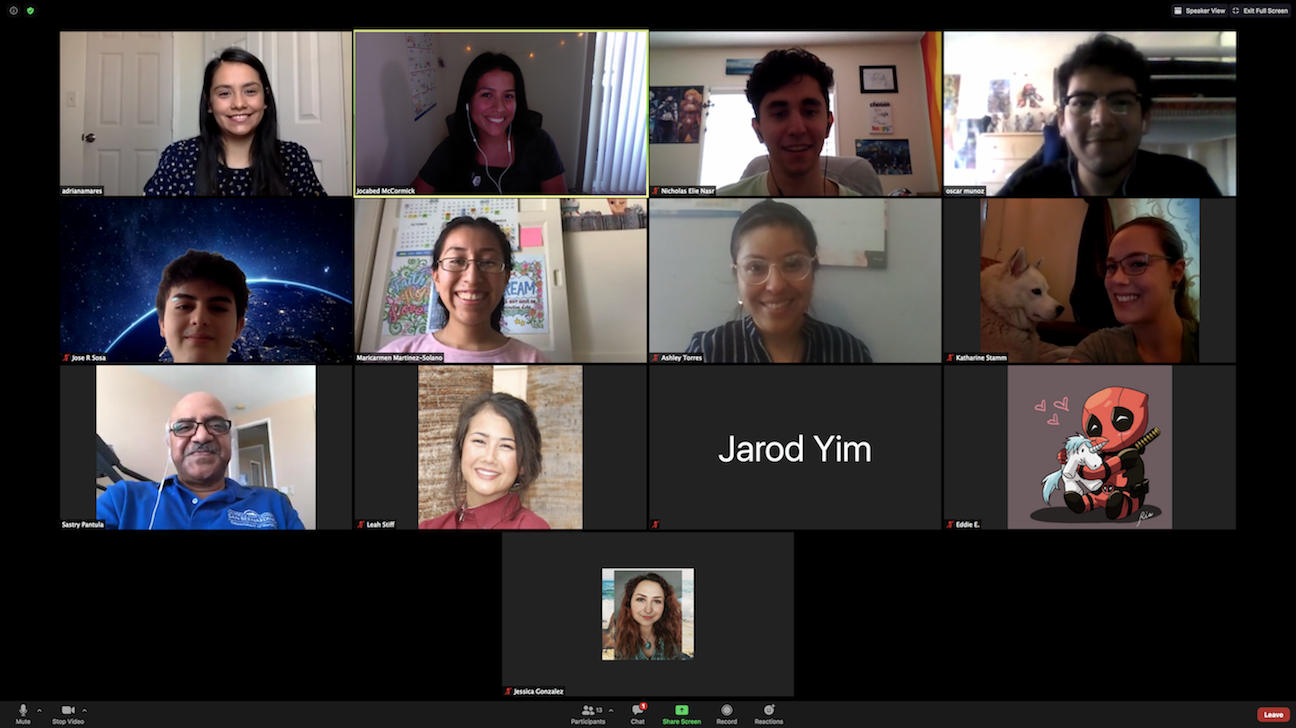 Upcoming Events

| Workshop Name | Date | Time | Location |
| --- | --- | --- | --- |
| "Motivation and Goal Setting" w/ Adriana Mares | Oct 06, 2020 | 12:00 pm | https://csusb.zoom.us/my/cnsadvising  |
| "Major Mixer: Computer Science and Engineering" w/ Aleesha and Claudia | Oct 14, 2020 | 12:00 pm | https://csusb.zoom.us/my/cnsadvising |
| "How to Begin Career Exploration" w/ Leah Stiff | Oct 27, 2020 | 12:00 pm | https://csusb.zoom.us/my/cnsadvising |
| Career Panel: Physics | Oct 23, 2020 | 2:00 pm | https://csusb.zoom.us/my/cnsadvising |
| "Major Mixer: Mathematics" w/ Breauna and Claudia | Oct 28, 2020 | 12:00 pm | https://csusb.zoom.us/my/cnsadvising |
| Career Panel: Chemistry and Biochemistry | Oct 30, 2020 | 2:00 pm | https://csusb.zoom.us/my/cnsadvising |
| "Creating Healthy Habits and Coping through COVID" w/ Breauna Hampton | Nov 03, 2020 | 12:00 pm | https://csusb.zoom.us/my/cnsadvising |
| "Keeping Focused and Managing Distractions" w/ Aleesha Garcia | Nov 10, 2020 | 12:00 pm | https://csusb.zoom.us/my/cnsadvising |
| Career Panel: Geology | Nov 13, 2020 | 2:00 pm | https://csusb.zoom.us/my/cnsadvising |
| "Budgeting and Financial Management" w/ Ashley Torres | Nov 17, 2020 | 12:00 pm | https://csusb.zoom.us/my/cnsadvising |
| Career Panel: Teaching | Nov 20, 2020 | 12:00 pm | https://csusb.zoom.us/my/cnsadvising |
| "Gender in STEM Fields" w/ Maricarmen Martinez-Solano | Nov 24, 2020 | 12:00 pm | https://csusb.zoom.us/my/cnsadvising |