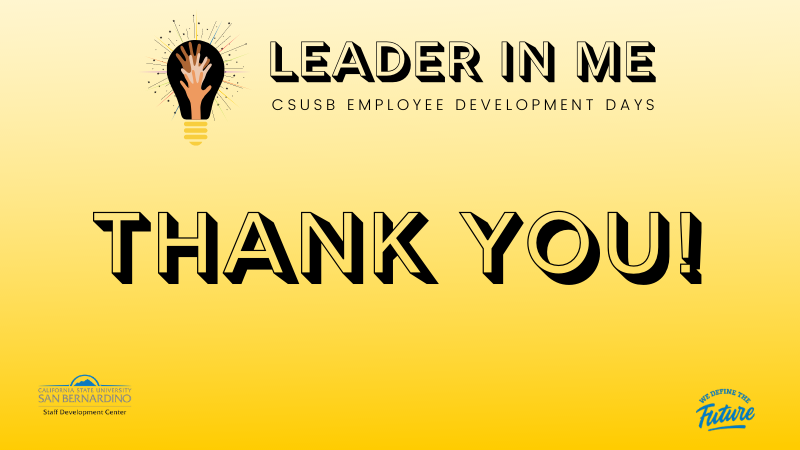 Thank you to everyone who attended CSUSB's 5th Annual Employee Development Days (EDD), Leader in Me, on June 18-19, 2020. We want to hear from you. Please take a moment to assess the virtual conference by clicking the evaluation button below.
Your EDD2020 Committee,
Amanda Salazar-Rice
Dayna Brown
Dusty Rushia
Jessica Davis
Marissa Boles (Chair)
Pamela De La Torre
Reneisha Wilkes
Rowena Woidyla
Sara Garcia
Susan Mendoza
Workshop Recordings Now Available!
2020 Workshop Recordings
Workshop
Presenter
Status

Building a Pipeline to Executive Leadership for Women of Color in Higher Education

Paz Olivérez

Watch Now

Finding Your Balance, Decreasing Your Stress

 

Albert Angelo
Watch Now

Supporting Undocumented Students in Higher Education

Olivia Rosas
Watch Now

Unleashing Your Innovation Through Psychological Safety & Collaboration 

Michelle Elrod
Watch Now
Visualizing Your Work through Kanban
Chris Bradney
Watch Now