Think about the year 1900. It's difficult for people of our time to imagine it. Women did not have the right to vote. The children's adventure stories of the time (Tom Swift, etc.) featured boys; girls were not expected to have adventures. They were expected to stay home, clean the house, cook the dinner, tend the babies...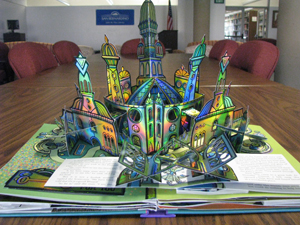 Part of the Oz exhibit on display in the Special Collections & University Archives Reading Room (September 2010).
In L. Frank Baum's The Wonderful Wizard of Oz published in 1900, the protagonist was a girl! He went on to write The Marvelous Land of Ozwhich featured a little boy named Tip — who turned out to be princess — yes, princess — in disguise (Ozma).
In that second book there is a great battle between General Jinjur's Army of Revolt (all girls) and Glinda's personal army (also all female). Glinda's female army is victorious, winning the Emerald City for its rightful ruler — Ozma!
Baum was a feminist — and when The Marvelous Land of Oz was written it was practically subversive. When you sit down to enjoy the Wizard of Oz series remember that Oz was an entirely new kind of kingdom. One in which women were strong, had adventures, and could rule.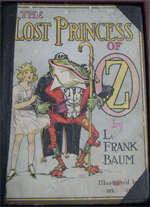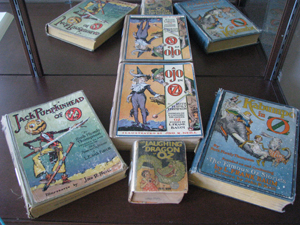 Jack Pumpkinhead of Oz by L. Frank Baum. Special Collections & University Archives Call #PZ8.T372 Jac 1929
The Lost Princess of Oz by L. Frank Baum. Special Collections & University Archives Call #PZ8.B327 Lo
The Wonderful Wizard of Ozby L. Frank Baum, art by Robert Sabuda. Special Collections & University Archives Call #PZ7.B327 wi 2000
Lyman Frank Baum (1856-1919) authored 14 book set in the land of Oz:
The Wonderful Wizard of Oz (1900)
The Marvelous Land of Oz (1904)
Ozma of Oz (1907)
Dorothy and the Wizard of Oz (1908)
The Road to Oz (1909)
The Emerald City of Oz (1910)
The Patchwork Girl of Oz (1913)
Tik-Tok of Oz (1914)
The Scarecrow of Oz (1915)
Rinkitink in Oz (1916)
The Lost Princess of Oz (1917)
The Tin Woodman of Oz (1918)
The Magic of Oz (1919, posthumously published)
Glinda of Oz (1920, posthumously published)