Julie L. Taylor, Ph.D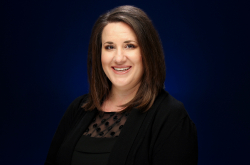 Current Status:
Assistant Professor in the Department of Communication Studies
Classes Taught:
Undergraduate and Graduate courses in: Organizational Communication, Communication & Gender, and Persuasion.
Why I believe in the Center:
During my graduate years at the University of Utah, I was a communication consultant for the College of Engineering. This interdisciplinary experience not only changed my perspective on the immediate importance of the communication discipline, but I watched it transform the lives of students. Communication is the foundation of our lives. Thus, effective communication must be learned, treated with great care, and practiced.
Other professional experience:
Dr. Taylor's  research interests include organizational, policy, and gender communication. Dr. Taylor's recent projects include investigating organizing elements of sex for sale around policy construction and enactment. Dr. Taylor has published articles in Communication Education, the Western Journal of Communication, the Journal of Business and Technical Communication, Connexions: International Professional Communication Journal, and the Journal of Human Trafficking, among other scholarly journals and outlets.