Title IV-E Stipend Program provides monetary support to students who intend to pursue or continue a career in the field of public child welfare.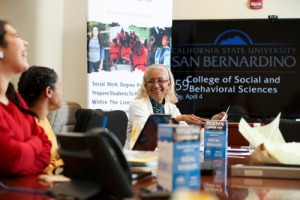 As part of the overall Two - Year BASW Program, Title IV-E offers a $15,000 stipend during the senior year for selected bachelor's IV-E students.
Two-Year MSW Program – The Title IV-E stipends provide the financial support of $18,500 per year for students in the two-year MSW Program.
Three-Year MSW Program (on campus & online) – The students in these programs must be current employees of County or Tribal Child Welfare agencies in order to be eligible for the Title IV-E student support funds.  Eligible students in these programs are reimbursed for their tuition, books, and travel for a period of three years.
The following conditions apply to ALL Title IV-E students:
While in the BASW and MSW Programs, all students are required to complete the child welfare elective course. Additionally, MSW students must select a child welfare related topic for their research and advanced coursework assignments.
Second-year BASW field placement will be in a County Partner Child Welfare Agency. MSW Foundation year placements must be in agencies serving child welfare (IV-E) clients. MSW Advanced year field placements must be in California County Child Welfare Agencies.
Students sign a contract agreeing to secure employment in a California County Department of Child Welfare Services or the California Department of Social Services, Child Welfare Division or California Indian Tribal organization within six months of graduation. Students must commit employment of one year for each year of aid awarded.
Students who are DSS/CDSS or CSW employees on educational leave must return to work in their home county upon graduation.
MSW Contact for Title IV-E Program:
Susan Culbertson MSW
Title IV-E Program Coordinator
Phone: (909) 537-5544
E-mail: sculbert@csusb.edu.
BASW Contact for Title IV-E Program:
Nick Watson
BASW Title IV-E Program Coordinator
Phone: (909) 537-3838 
E-mail: Nick.Watson@csusb.edu
We are located on the fourth floor of the Social and Behavioral Sciences (SB) Building. The MSW office is in SB-423, and the BASW office can be found in the SB-402 office suit.