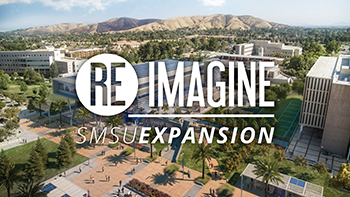 The Santos Manuel Student Union broke ground on the three-story, 120,000-square-foot expansion in July 2019. The $90 million expansion, which is set to be completed on September 2021, will be constructed immediately north of the existing student union.
The expansion, which was approved by the California State University Board of Trustees in May 2019, will include a multi-purpose ballroom (twice the size of the existing Events Center), an eight-lane bowling alley and game room, a pub, food service and retail space, collaboration spaces for student organizations and student support centers, and a bookstore.
The project's architect is LPA Architects in Irvine and the construction contractor is Hathaway Dinwiddie of Los Angeles.
The expansion will have two primary entrances on the first level: the southern entrance nearest to the existing Santos Manuel Student Union and the north entrance accessed from Coyote Walk, the main campus pedestrian spine.
The southern wing of the first level includes a pub with outdoor seating, game room, eight-lane bowling alley, and gathering space. The northern wing will house food vendors, retail space, dining and lounge space, and the relocated bookstore. Access to the northern wing of the building can be restricted, if needed, during late-night hours when the pub and bowling alley remain open.
The second level is highlighted by a conference center with a ballroom dividable into five rooms, featuring a catering kitchen and other event support spaces. The conference center opens to an outdoor plaza for breakout sessions and pre-function events. The double-height ceiling of the second floor creates a mezzanine that will house the building's mechanical equipment.
The third floor will provide nearly twice the space for administrative offices for Associated Students Inc. (ASI), student organizations and student support centers. They include: The Office of Student Engagement; student club space; cultural centers such as the Women's Resources Center, Pan African Center, Asian Pacific Islander Student Success Center, Queer and Transgender Resource Center, LatinX Center, First Peoples Center, The Undocumented Student Center, and The Adult Reentry Center; and additional social and gathering spaces.
Though the new facility will not be physically connected to the existing student union, the project will also renovate the existing union to visually and functionally link the building, namely the creation of a plaza between the south entrance of the expansion building and the north entrance of the existing building, converting the existing building's north entrance to a glass storefront, and renovating 29,000 square feet to include a new wellness and counseling center along with various meeting and support spaces.
Construction Time Lapse Camera
As part of our exciting expansion we have worked with Ox Blue to provide a time lapse camera which provides a birds eye view of the construction progress!