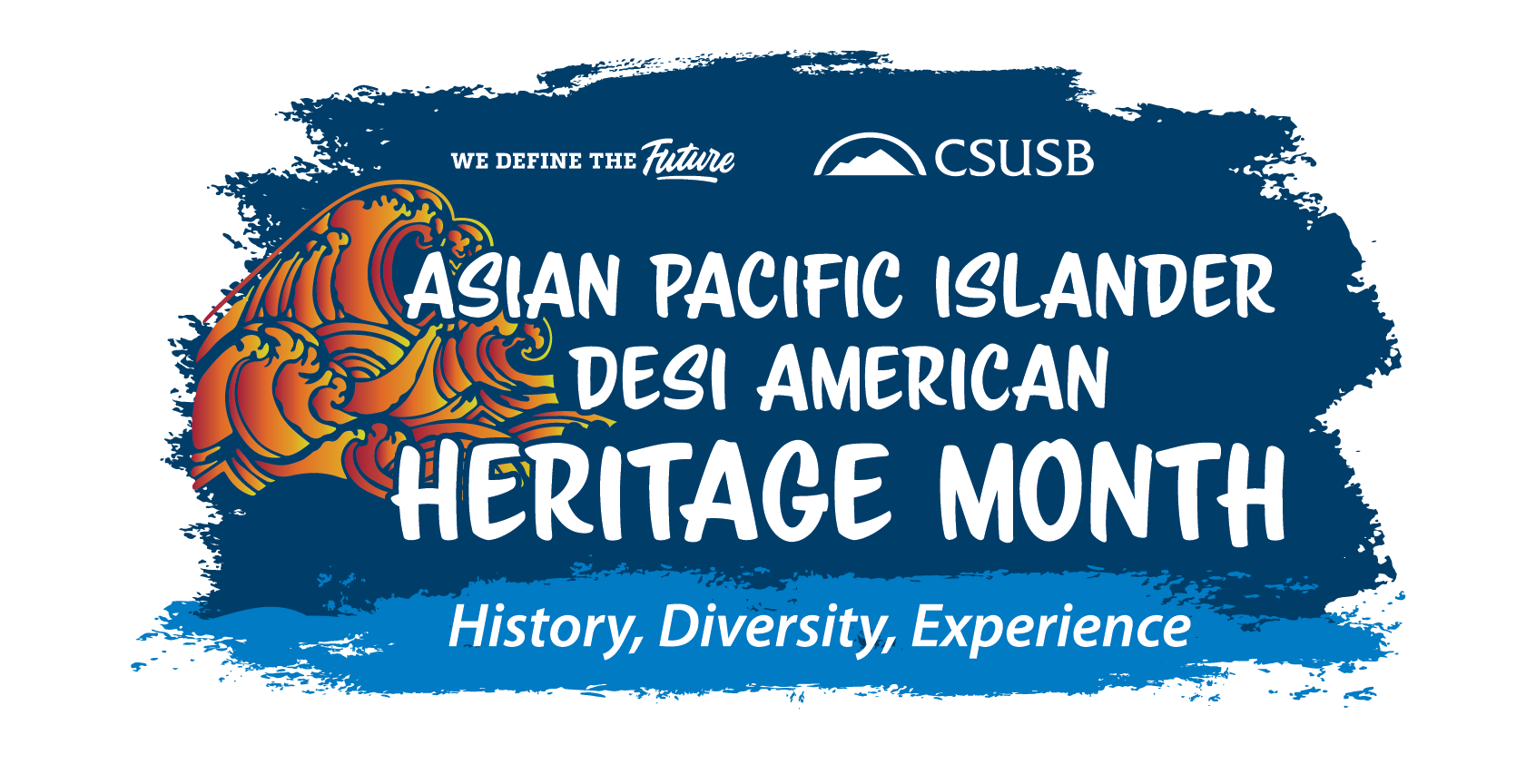 CSUSB Asian Pacific Islander Desi American Heritage Month: History, Diversity, Experience
Nationally, Asian Pacific Islander Desi Heritage Month is celebrated during the month of May.  Since our campus has a short month in May with Finals, we start celebrations in April. The month of May was chosen to commemorate the immigration of the first Japanese to the United States on May 7, 1843, and to mark the anniversary of the completion of the transcontinental railroad on May 10, 1869. The majority of the workers who laid the tracks were Chinese immigrants. Asian/Pacific American Heritage Month originated with Congress. In 1977 Reps. Frank Horton of New York introduced House Joint Resolution 540 to proclaim the first ten days in May as Pacific/Asian American Heritage Week. In 1992, Congress passed Public Law 102-450 (PDF, 285kb) which annually designated May as Asian/Pacific American Heritage Month.
APIDA Heritage Month Virtual Backgrounds
APIDA Heritage Month Events
There are no scheduled upcoming events at this time.
Coyote Commons APIDA Heritage Month Menu
April 7 Coyote Commons Lunch: Miso udon noodle bowl with toppings
April 11 Coyote Commons Lunch: Orange chicken, tofu, rice, noodles, green vegetables
April 13 Coyote Commons Lunch: Beef and broccoli, tofu and broccoli, jasmine rice, fried rice, bok choy
April 14 Coyote Commons Lunch: Yellow curry chicken, vegetable pad Thai, rice, vegetables
April 18 Coyote Commons Lunch: Teriyaki pork, teriyaki tofu, white rice, roasted mixed vegetables
April 21 Coyote Commons Lunch: Tofu stir fry, Szechuan eggplant, rice, noodles, vegetables
April 22 Coyote Commons Lunch: Bibimbap rice bowl with toppings
April 25 Coyote Commons Lunch: Basmati rice bowl, lentil nut korma dal, makhni dal, tarka dal, tomato chutney, cilantro chutney, tofu tikka, naan bread
April 26 Coyote Commons Dinner: Street food night, BBQ chicken on a stick, banana cue, garlic fried rice, lumpia, Turan
April 27 Coyote Commons Lunch: Singapore noodles with chicken and shrimp, bok choy, broccoli and cauliflower, sesame carrots, ginger zucchini
April 28 Coyote Commons Lunch: Tofu stir fry, veggie fried rice, mixed Asian vegetables, sauteed spinach, grilled mushrooms