Covid-19 Message
We are open and ready to support you!
As we continue to monitor and meet established safety guidelines in response to the novel coronavirus (COVID-19) outbreak, our offices are still open and operating in a virtual format. You can reach us by phone at (909) 537-5493 or via email at raffma@csusb.edu. We will respond as quickly as possible. Please keep a close watch for new announcements. Many of them, as well as several resources, can be found on CSUSB's dedicated COVID-19/Coronavirus Information web page.
Thank you and stay safe.

RAFFMA International Museum Week 2020
The Robert and Frances Fullerton Museum of Art will be celebrating International Museum Week 2020 and we want all of you to join in!
The objective of International Museum Week is to raise awareness on the fact that, "museums are an important means of cultural exchange, enrichment of cultures and development of mutual understanding, cooperation and peace among peoples".
A large part of the week long celebration is the Emerging Artist Virtual Exhibition! We invite ALL emerging artists (students, staff, faculty, and community) to participate in a new form of exhibition. As much as we wish we could all be together in the museum, the current situation prevents this. So in the meantime, we want to still connect and bring the community together.
See below for all submission details and share with your friends/family!
Schedule of Events
Open Submissions for the Emerging Artist Virtual Exhibition: May 11-15, 2020
International Museum Day: May 18, 2020
Emerging Artist Virtual Exhibition: May 18-22, 2020
Art Professionals Hangout: May 22, 2020
---
Emerging Artist Virtual Exhibition
The Robert and Frances Fullerton Museum of Art welcomed all artists to submit artwork to the Emerging Artist Virtual Exhibition as part of the International Museum Week 2020. This serves as a chance for us to connect with all of our emerging artists and create community during these times.

Exhibition Theme:
The current global situation has transformed the day to day operations for people all over the world. This drastic change has forced us to look and think about things differently. In this altered state we have the opportunity to consider the things we've taken for granted and potentially find joy in simpler things. For the purpose of this virtual exhibition, we are asking all emerging artists to either create or share a work that has been made to address the silver lining of this situation. Our aim in this virtual exhibition is to highlight any positivity we can take from the situation. As an artist you may have found more time to make work, you could have found personal healing through art, you could be spending more time at home with family or perhaps you are spending more time in your garden. Share with us the positive in your life through ART.
Submissions are now closed.
Visit the Emerging Artist Virtual Exhibition page to view all of the amazing submissions!
Thank you to all who participated.
View Emerging Artist Virtual Exhibition
---
Art Professionals Hangout
Friday, May 22, 2020
4 p.m.
View Art Professionals Hangout
All panelists will share their background and journey in their specific profession. This event will be an opportunity for emerging artists to gain valuable insight about the art world from multiple perspectives.
Come prepared with some questions of your own for the panelists!

Panelists:
John Fleeman, RAFFMA Exhibition Designer
Jay Belloli, Curator and Writer
David B. Jang, Artist
Stas Orlovski, Artist
Katherine Gray, Artist and Curator
Questions, please contact raffma@csusb.edu.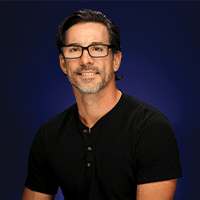 John Fleeman joined the museum staff in 1997 as Exhibition Designer. Throughout his long museum career, John has coordinated the design and installation for numerous exhibitions. Among other positions, he worked as Preparator for the Norton Simon Museum of Art and Security Director for the Grand Rapids Art Museum. John received his B.A. in Fine Art from Western Michigan University, with a concentration in Painting and Art History. He is a member of the American Association of Museums and the Packing and Crating Information Network. In 2000, John received the President's Outstanding Employee of the Year Award from CSUSB and the Golden Apple Award.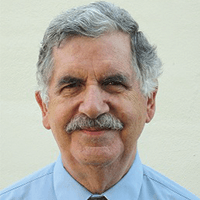 Jay Belloli is an independent curator and writer with a focus in contemporary art and astronomy. He was Director of Gallery Programs at the Armory Center for the Arts in Pasadena, California from 1990 to 2010. Prior to the Armory, he had nearly twenty years of experience as a curator and museum director at such institutions as the Detroit Institute of Arts: the Modern Art Museum of Fort Worth; the Museum of Contemporary Art, San Diego; the Contemporary Arts Museum, Houston; and the former Baxter Art Gallery at the California Institute of Technology in Pasadena. He has written extensively on contemporary art and artists for catalogues and periodicals.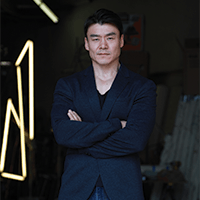 Both an artist and an inventor, David B. Jang is known for his imaginative kinetic installations, which employ hacked consumer electronics and subverted household appliances. These vestiges of technology, with their life's instructions literally coded into their motherboards, are the building blocks of Jang's practice. By deconstructing, re-programming, and reconstituting industrial and commercial castoffs, Jang creates immersive works.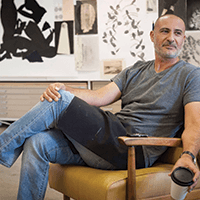 Stas Orlovski has exhibited widely throughout the U.S. with solo shows in Los Angeles, New York, Chicago and the Bay Area. His work has been included in museum exhibitions at the Los Angeles County Museum of Art, Pomona College Museum of Art, Long Beach Museum of Art, Pasadena Museum of California Art, Boulder Museum of Contemporary Art, Weatherspoon Museum of Art and the Fine Arts Museum of San Francisco among others.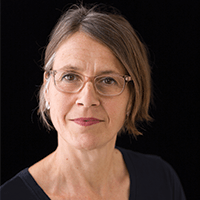 Katherine Gray received her undergraduate degree from Ontario College of Art in Toronto, and her MFA from Rhode Island School of Design in Providence, RI. Her work has been exhibited at Heller Gallery in New York City, Urban Glass in New York, and most recently in solo shows at the Craft and Folk Art Museum in Los Angeles and the Toledo Museum of Art. Her work has been reviewed in the New York Observer.com, Artforum.com and in the LA Times. Images of her glasswork have also appeared in the New York Times Design magazine. In 2017, she received the Libenský/ Brychtová Award from the Pilchuck Glass School for her artistic and educational contributions to the field, and she will be inducted into the College of Fellows of the American Craft Council this coming fall. Gray can be seen in the ongoing Netflix series Blown Away as the Resident Evaluator. Her work can be found in the collections of the Corning Museum of Glass, the Toledo Museum of Art and the Tacoma Museum of Glass, among others. Gray has written about glass, curated and juried multiple exhibitions, and has taught workshops around the world. Currently, she lives in Los Angeles, CA, and is a Professor of Art at California State University, San Bernardino.