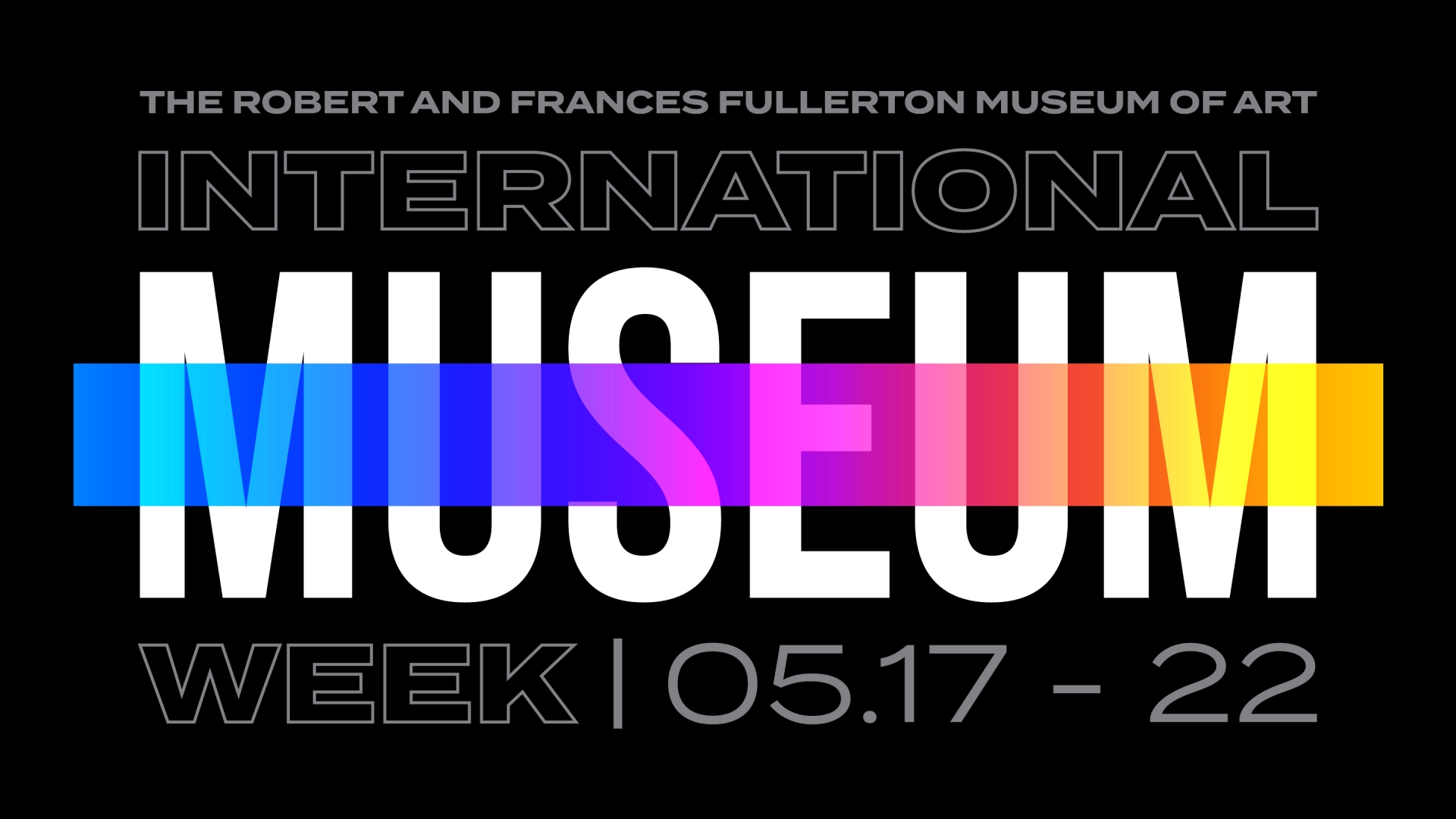 RAFFMA International Museum Week 2021
The Robert and Frances Fullerton Museum of Art will be celebrating International Museum Week 2021 and we want all of you to join in!
The objective of International Museum Week is to raise awareness on the fact that, "museums are an important means of cultural exchange, enrichment of cultures and development of mutual understanding, cooperation and peace among peoples".
A large part of the week-long celebration is the Emerging Artist Virtual Exhibition! We invite ALL emerging artists (students, staff, faculty, and community) to participate in a new form of exhibition. As much as we wish we could all be together in the museum, the current situation prevents this. So in the meantime, we want to still connect and bring the community together.
See below for all submission details and share with your friends/family!
Schedule of Events
Open Submissions for the Emerging Artist Virtual Exhibition: April 26-30, 2021
International Museum Day: May 18, 2021
Emerging Artist Virtual Exhibition: May 17-21, 2021 (VIEW)
Cocktails with the Collection: May 20, 2021 at 5 p.m. (RSVP)
---
Emerging Artist Virtual Exhibition
The Robert and Frances Fullerton Museum of Art welcomed all artists to submit artwork to the Emerging Artist Virtual Exhibition as part of the International Museum Week 2021. This serves as a chance for us to connect with all of our emerging artists and create a community during these times.
Exhibition Theme:
The year 2020 has been like no other. The COVID-19 crisis has swept the whole world abruptly, affecting every aspect of our lives, from the interactions with our loved ones, to the way we perceive our homes and cities, to our work and its organization. Art is no exception to these changes and in some ways, we are among the most affected due to our strong dependence on social and experiential interactions. The way we make and present our art has changed; we have adapted by embracing technology to create, exhibit and/or reach new audiences. For the purpose of this virtual exhibition, we are asking all emerging artists to either create or share an original work that has been made to adapt or react to this new wave of art and technology.
Submissions are open to all mediums and any use of technology.
---
Cocktails with the Collection
Thursday, May 20, 5 - 6 p.m.
Host: Dr. Kate Liszka, Associate Professor The Benson and Pamela Harer Fellow in Egyptology

Cocktails with the Collection is a monthly event, where we take attendees into the vault (virtually) and discuss objects from our collection that are not on display. The art and topics range each month but setup to be rather informal, this allows attendees to learn more about the collection at RAFFMA. 

The Dung Beetle surprisingly inspired one of the most important symbols in ancient Egypt, the scarab.  Scarabs are the ancient Egyptian symbol of creation, connected with the birth and the rebirth of the sun every morning.  This symbol was ubiquitously used in Ancient Egyptian art and jewelry, both for the living and the dead.  It diametrically occurs in contexts both vitally important to help the deceased pass judgment and enter the afterlife, as well as important to identify administrators conducting their daily tasks of letter writing and overseeing of storage.  Come, learn, and discuss this diverse and dynamic symbol of the sunrise.
Evening Signature Drink
Tequila Sunrise
1 1/2 ounces tequila
3/4 cup orange juice 
3/4 ounce grenadine syrup 
Orange slice, for garnish 
High-quality maraschino cherry, such as Luxardo, for garnish 
In a highball glass filled with ice, pour in the tequila and orange juice. Slowly pour the grenadine into the glass over the back of a spoon or by drizzling it down the side of the glass, allowing it to settle at the bottom. Garnish with an orange slice and maraschino cherry.
Register for Cocktails with the Collection - May 20
Questions, please contact raffma@csusb.edu.