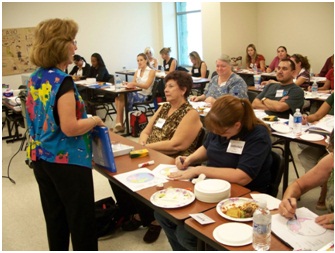 Participants at these FUN Teacher Forums and Workshops receive practical, ready-to-use activities designed specifically to help students master their grade-level standards for history-social science.
Workshops are presented by top-notch, experienced teachers who provide participants with handouts and step-by-step guidance. Most workshops are only $20 per person (includes handouts and parking!) No registration fee is required for Palm Desert Campus students who are currently enrolled.
Workshops are held in the Indian Wells Center for Educational Excellence, 3rd floor, Palm Desert Campus of California State University, San Bernardino 37-500 Cook Street in Palm Desert. Some workshops are held off campus at local area schools.
For information about upcoming workshops:
Contact Priscilla Porter