Parking Services Covid-19/Coronavirus Update
The health and safety of our students, faculty, and staff is the top priority for Cal State San Bernardino, therefore, Parking & Transportation Services will be temporarily closed to in-person services due the COVID-19 (Coronavirus) outbreak beginning Monday, March 23, 2020.  Please know that our staff are working off-site and are ready to serve your needs during regular business hours, Monday-Friday, 8:00am-5:00pm.  Please contact either the phone number and/or email address in the 'Contact Us' section on this webpage.  
Summer Resident Parking Permit Pick-up
The pickup location for Summer Resident Parking Permits is the Information Center on Coyote Drive. The hours of operation are Monday - Friday 7 am - 5 pm.
CSUSB Transportation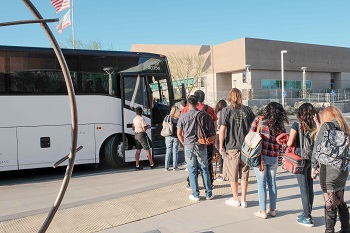 Looking for a better way to get to campus? You've come to the right place! When you share the ride, everyone benefits; your community, the environment, your car, and your wallet! CSUSB Transportation Services is here to help you get started with our exclusive website portal at https://csusb.commuterportal.com/
Our program works hard to reduce traffic congestion and increase mobility throughout campus. We encourage alternate modes of transportation and reward eligible participants with our various incentive programs. Anyone using any form of alternative transportation is eligible for an incentive. We also offer free exclusive CSUSB carpool matching, vanpool coordination, additional transportation information, a Guaranteed Ride Home program and much more! 
*For up to date traffic alerts check out the IE-511 website*