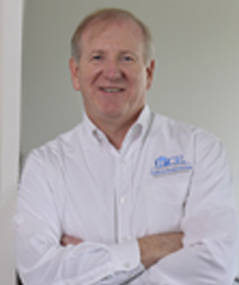 Title: Professor of Entrepreneurship and Director - IECE
College: College of Business and Public Administration
Department: Management
Email: mstull@csusb.edu
Phone: (909) 537-5731
Office: JB 461
Office Hours: call office to schedule
Teaching

Dr. Stull, who earned his MBA from Cal State San Bernardino (CSUSB) and his doctorate from Case Western Reserve University, is an experienced entrepreneur and teaches all subject areas in the field of entrepreneurship including new venture creation, ideation and innovation, business planning and strategy, business model development, new venture finance and managing growth. His favorite courses are MGMT 543 and MGMT 621.

Research

Dr. Stull focuses his research on entrepreneurship, entrepreneurial leadership, trust and its role in innovative behaviors, and social entrepreneurship. In addition to his publications in the field, Dr. Stull is also an active and successful grant writer, having secured over $20 million in program and research grants during his time at CSUSB.

Business Consulting

Dr. Stull has more than 25 years of experience as an entrepreneur and business executive. He serves as an advisor and consultant to a number of startup and emerging companies.

Professional Service

Dr. Stull is the Department Chair of the Management Department at CBPA. At CSUSB he has led a number of key initiatives in the CBPA including the development and implementation of a new MBA curriculum, the CBPA strategic planning process and the development of new curriculum models for Entrepreneurship at the undergraduate and graduate level. He has served a guest business columnist for the Los Angeles News Group and serves on the board of a number of nonprofit organizations in Southern California. He is also currently an advisory board member of the Tech Coast Angels, the largest investor group in the US.

Awards/Recognition

Dr. Stull has raised nearly $25 million in grants, contracts and gifts for the entrepreneurship program at CSUSB. He has been recognized with two outstanding teaching awards (2008, 2009) at CSUSB and has been honored for both his leadership (Management Leader of the Year, 2001, University of California Riverside) and his entrepreneurial skills (Ernst & Young Entrepreneur of the Year, 1999). Under his direction the entrepreneurship program has achieved national acclaim, including ranking as the #4 graduate entrepreneurship program in the U.S. from The Princeton Review & Entrepreneur Magazine and receiving the prestigious National Excellence in Entrepreneurship Education Award in 2010 from the United States Association for Small Business and Entrepreneurship (USASBE).

Personal

Dr. Stull is passionate about entrepreneurship, teaching and growing the IECE program at CSUSB. He is married with two children and when not working, loves hiking, traveling and playing ice hockey.