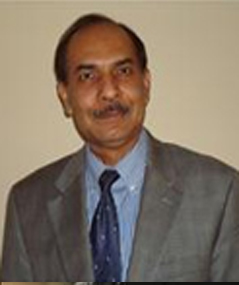 Title: Professor of Finance
College: College of Business and Public Administration
Department: Accounting & Finance
Email: gsarwar@csusb.edu
Phone: (909) 537-5711
Office: JB 223
Teaching

Dr. Sarwar (Ph.D. Oklahoma State, Ph.D. Nebraska) teaches primarily Financial Derivatives, Corporate Finance, and Investments. He has taught graduate finance courses in the traditional MBA, Executive MBA, Professional MBA, Online MBA, and MS Finance programs at multiple AACSB accredited business schools. He has received multiple teaching awards, including the 2013 Outstanding Originator of Distributed Learning (OODL) award from CSUSB.

Research

Dr. Sarwar's research has appeared in highly visible and respected finance and economics journals on a regular basis. His published research in options and futures has been widely cited in the finance literature. He has presented papers and chaired sessions at many national and international finance and business conferences. He served as a reviewer for some highly ranked and respected finance journals. Dr. Sarwar has received awards for his quality research.

Financial Practive/Investment

Dr. Sarwar has a passion for real-world stock and option markets investments. He was instrumental in bringing private funding to create a Student Managed Investment Fund (SMIF) for providing CBPA students hands-on investment experience with real money. His investment expertise are recognized and sought by wealthy private investors.

Professional Service

Dr. Sarwar is a former chair of the department of accounting and finance at CBPA. He was also the chair of department of finance, insurance, and real estate, SCSU (second largest MN state university). Dr. Sarwar was instrumental in starting the new MSA degree program at CBPA. He currently serves as a reviewer for multiple national and international finance and business conferences and journals.

Awards/Recognition

Dr. Sarwar has received multiple awards for outstanding teaching, research, and service at CSUSB, SCSU, and University of Nebraska. He was awarded a post-doctoral fellowship at University of Guelph, Canada. He won the 2005 Distinguished Business Professor of the Year award at the Herberger College of Business, SCSU.

Personal

Dr. Sarwar is a student-centered professor who has been in academia since 1990. He was instrumental in bringing private money to support student scholarships and faculty research. His professional passion is to apply his options and investment knowledge to real-world financial investments using his own money. He enjoys visiting foreign countries and was part of the CBPA study abroad program in Germany and Dubai. He has studied and worked in professional jobs in four different countries.