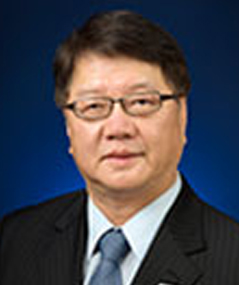 Title: Professor, Chair
College: College of Business and Public Administration
Department: Information & Decision Sciences
Email: flin@csusb.edu
Phone: (909) 537-5787
Office: JB 460
Office Hours: See dept. listing in JB-460
Teaching

Professor Lin teaches in the Information and Decision Sciences Department. He received his PhD in Management Information Systems with minors in computer science and educational psychology and an MBA in Management Information Systems from State University of New York at Buffalo (SUNY Buffalo). As an Associate Dean for international programs at CBPA, he also leads several short-term study abroad programs to Japan, China, Taiwan, Korea, India, France, Germany, UAE, and Costa Rica.

Research

Dr. Lin's research interests include organizational assessment, business model, business process improvement/redesign, organizational modeling, enterprise architecture, strategic use of information technology, diffusion of information technology in organizations, global and cultural intelligence and entrepreneurship. He has published articles and monographs in books and journals such as MIS Quarterly, Business Process Management Journal and Journal of International Information Management as well as international, national and regional conferences.

Business/Consulting

Prior to his academic pursuit, Dr. Lin worked for Fujitsu Co. as a software and system engineer. He also has an extensive consulting experience for businesses in various industries. Most recent consulting engagements include organizational assessment, strategic planning, enterprise architecture, business process design/improvement, performance measurement systems and ERP implementation, particularly for State-Owned Enterprise in China.

Professional Service

Dr. Lin was the associate editor of the Journal of International Technology and Information Management from 2007-2009 and serves on the review board for a number of journals such as the Pan-Pacific Journal of Business Research. He has served as an executive board member and vice chairman of the Chinese American Faculty Association in Southern California; is a member of the Association of Chinese Management Educator; a board member of the Inland Empire Chinese Association since 1994; and the vice chairman of the Pomona Chinese School, of which he was also the assistant principle of the board, 1996-1997. In 2001, he was the president of the Inland Empire Chinese Association.

Award/Recognition

Dr. Lin has received a number of grants and/or gifts from National Science Foundation, Department of Defense, Oracle Corp., GTE and Microsoft Corp. etc.