Why get a Certificate in Accounting?
Fast-track your next career step
Add a focus to a degree or in-service experience
Advance in your current Accounting position
Complete prerequisites for an MSA 
Earn required education units to sit for the CPA exam
Why now?
If you're visiting this site, you're already thinking about your career. This 100% online certificate program was created for you. There's no time like the present.
Who should enroll?
Bachelor's degree holders who need prerequisites for the Master of Science in Accountancy
Professionals in the field who need coursework units to sit for the CPA exam
Business majors or graduates with a BA or BS  who have decided to focus in the Accounting field
Community college students/graduates with intro Accounting courses already done
High school graduates looking for a career path
See yourself here? Keep reading…
How does it work?
100% online, accelerated classes get you through and on your way to your next career step. Courses include additional CPA study materials that are not part of general Accounting classes. Digital materials give you immediate access to study materials, which Accounting Certificate students retain until passing the CPA Part 1 exam.

You can finish in as little as 5 months, or take your time to balance your schedule. It's your program – how you navigate it is up to you!

We have an easy admission process. After you submit the application, simply send your diploma or transcripts for review, and get a reply within four days. Some previous coursework may be transferred to waive certificate courses. This can reduce the number of courses you will need to take to earn the Certificate.

Retraining and workforce students are welcome. Contact the Program Specialist for details on how to use your benefits.

Read a few more details on funding, loans, employer tuition reimbursement and more.
How much does it cost?
Accounting Certificate Program course fees are set at $450 per unit, and each course is 3 units. The total for all 8 required courses is $10,800. Note one optional elective course is additional. Tuition fee does not cover cost of textbooks or CPA study module materials. Find more information about payments on the Procedures and Policies page.
When can I start?
Accounting Certificate introductory classes start in Fall and Spring Semesters. Intermediate courses will be offered in mid Fall and mid Spring. When you can start depends on which accounting courses you need to take. A customized Program Plan will guide you through your courses.
Your start date depends on:
Your career goals
Your course level needed
How many accounting classes, if any, you've already taken
Introductory classes start in Fall (late August) and Spring (late January) semesters. Intermediate courses are offered in late Fall and late Spring, as well as over Summer and Winter sessions.
Go to the Course Schedule page for session dates and course cycle.
Course Waiver
Up to two equivalent courses taken previously (either at CSUSB or at other colleges or universities) may be substituted for courses in the program. Transcripts are used to determine if your previous courses will transfer in.
Length of Program
5 months - Students are expected to take two classes each session in order to complete the program in five months. You may also extend the program over two semesters to balance your finances and schedule.
The 5-week accelerated course format is challenging and rewarding. Like face-to-face courses, online courses require good time management skills and attention to your course content.  While the asynchronous format allows you to study on your schedule, completing assignments on time is essential. Your instructors want you to succeed, and good communication is also important.  
Complete the one-minute program application and start a future you can count on!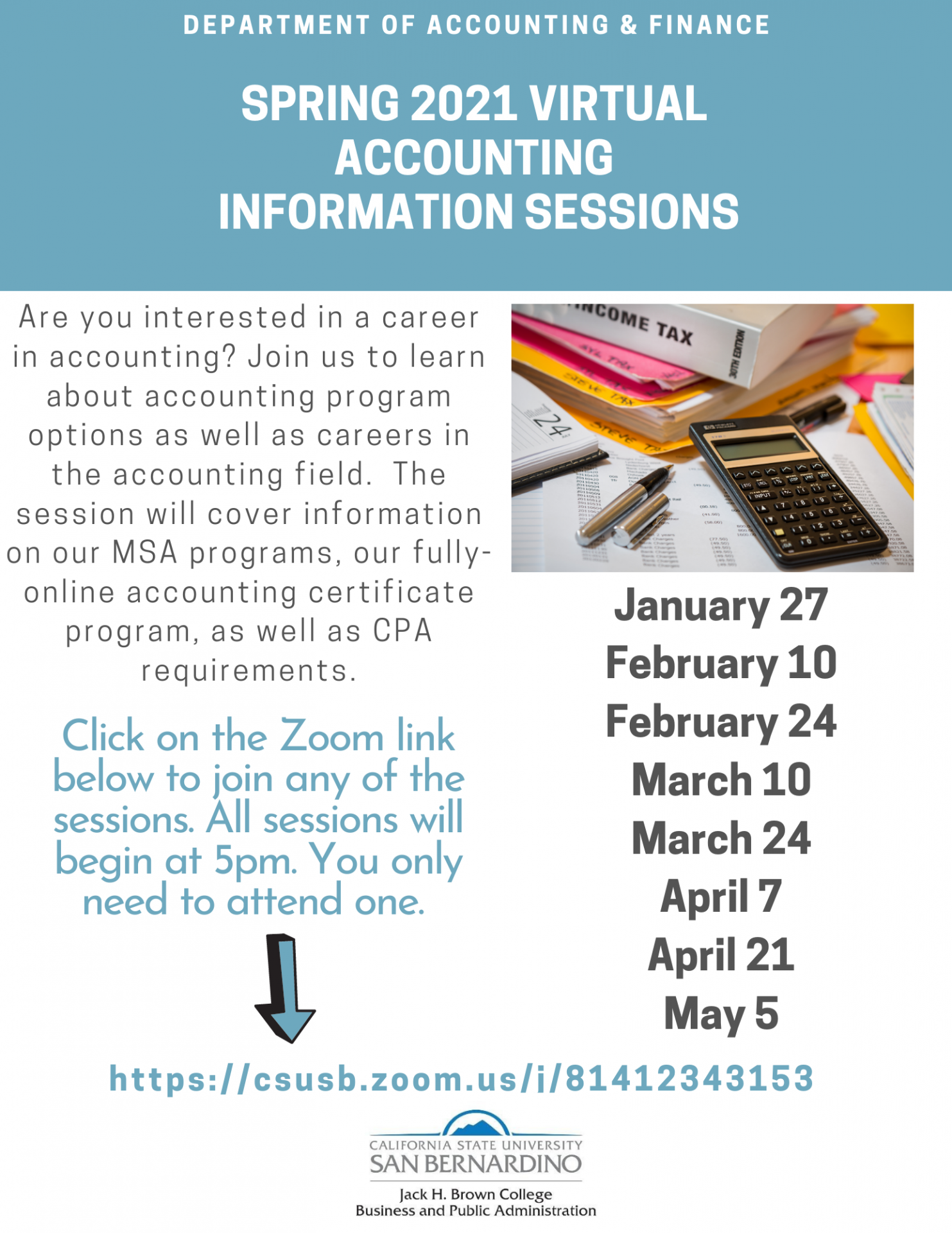 Click here for downloadable Info Session flyer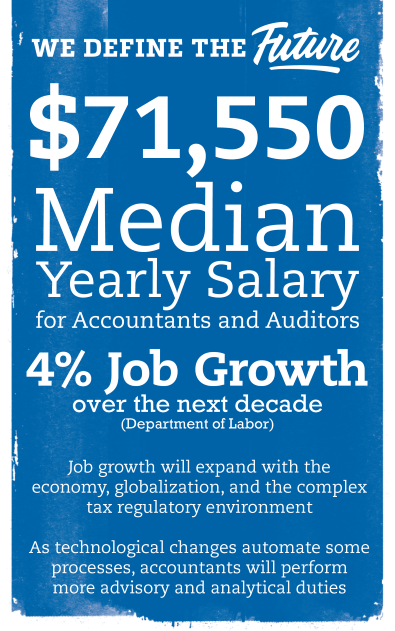 Career Opportunities
Bookkeeping
Accounting
Auditing Clerks
Accounting Assistant
Accounting Clerk
Senior Accounting Assistant
Staff Accountant
Financial Clerks
Accounts Payable/Receivable Technicians