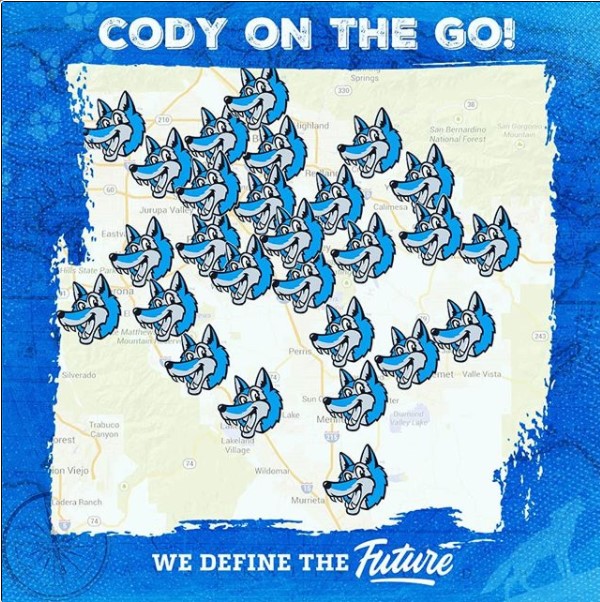 Hitting The Road, Virtually!
Outreach Counselors hit the road often around the State of California to help prospective students and their families navigate the admissions process to California State University, San Bernardino.  Catch us at multiple college fairs and schools throughout the year. These visits are a great opportunity for interested students to learn how to get prepared to apply to our campus and why you should pick California State University, San Bernardino for your undergraduate career.
Due to heightened health concern and mitigating risk associated with COVID-19, all school visits and admissions sessions will be conducted via phone or virtually using Zoom until further notice. However, we remain excited to continue to service all of our students and counselors in this virtual modality! Don't hesitate and schedule your outreach counselor today!
Outreach Counselor
Local High Schools
Non-Local High Schools
Community Colleges
Apple Valley High School
Granite Hills High School
Hesperia High School
Oak Hills High School
Sultana High School
Rim of the World High School
Adelanto High School
Silverado High School
University Preparatory HS
Victor Valley High School
Academy for Acad. Excellence
Alta Vista South Public Charter
Apple Valley Christian Baptist
Cobalt Institute of Math/Science
Encore Junior & Senior HS
Hesperia Christian High School
Summit Leadership Academy
Victor Valley Christian School
Mountains
Barstow High School
Big Bear High School
Quartz Hills High School
Serrano High School
Silver Valley High School
Victor Valley Community College
Barstow College
Outreach Counselor
Local High Schools
Non-local High Schools
Community Colleges
Yucaipa High School
Jurupa Valley High School
Patriot High School
Rubidoux High School
Bonita High School
Chaparral High School (San Dimas)
Chino High School
Chino Hills High School
Claremont High School
Diamond Ranch High School
Damien High School
Don Lugo High School
Garey High School
Ganesha High School
Park West High School
Pomona High School
Pomona Catholic High School
San Dimas High School
Outreach Counselor
Local High Schools
Non-Local High Schools
Community Colleges
Outreach Counselor
Local High Schools
Non-Local High Schools
Community Colleges
Alta Loma High School
Chaffey High School
Colony High School
Etiwanda High School
Los Osos High School
Montclair High School
Ontario High School
Rancho Cucamonga High School
Chaffey College (Main)
Chaffey College (Chino)
Chaffey College (Fontana)
Outreach Counselor
Local High Schools
Non-Local High Schools
Community Colleges
Banning High School
Beaumont High School
Glen View High School
Nuview Academy
Citrus Hill High School
Linfield Christian School
St. Jeanne De High School
Lestonnac School
Paloma Valley High School
Perris High School
Temecula Valley High School
Vista Murietta High School
Val Verde High School
Temecula High School
Preparatory High School
Murietta Valley High School
Murietta Mesa High School
Chaparral High School (Temecula)
Great Oak High School
Orange Vista High School
West Valley High School
Mt. San Jacinto College (Menifee)
Outreach Counselor
Local High Schools
Non-Local High Schools
Community Colleges
A.B. Miller High School
Jurupa Hills High School
Kaiser High School
Summit High School
Wilmer Amina Carter HS
Eisenhower High School
Rialto High School
Aquinas High School
Arroyo Valley High School
Cajon High School
Indian Springs High School
Pacific High School
Public Safety Academy
San Bernardino High School
San Gorgonio High School
Centennial High School
Corona High School
Eleanor Roosevelt HS
Elsinore High School
Lakeside High School
Temescal Canyon HS
Norco High School
Santiago High School
Outreach Counselor
Local High Schools
Non-Local High Schools
Community Colleges
Canyon Springs High School
Moreno Valley High School
Valley View High School
Vista Del Lago High School
Arlington High School
John W. North High School
Ramona High School
Riverside STEM High School
Martin Luther King Jr. HS
Riverside Polytechnic HS
Hillcrest High School
La Sierra High School
Norte Dame High School
Norte Vista High School
Rancho Verde High School
Moreno Valley College
Riverside City College
Outreach Counselor
Local High Schools
Non-Local High Schools
Community Colleges
Bloomington High School
Colton High School
Grand Terrace High School
Citrus Valley High School
Redlands East Valley HS
Redlands High School
Orangewood High School
Grove High School
Arrowhead Christian Academy
Middle College High School San Bernardino Valley College
Outreach Counselor
Local High Schools
Non-Local High Schools
Community Colleges
Indio High School
Shadow Hills High School
La Quinta High School
Palm Desert High School
Summit High School
Coachella Valley
Desert Mirage High School
West Shores High School
Nova Academy (Coachella)
 
Palo Verde (Blythe)
Needles High School College of the Desert (Main)
College of the Desert (Indio)
College of the Desert (Mecca)
Palo Verde College (Main)
Palo Verde College (Needles)
Outreach Counselor
Local High Schools
Non-Local High Schools
Community Colleges
Desert Hot Springs HS
Palm Springs High School
Cathedral City High School
Rancho Mirage High School
Twentynine Palms High School
Yucca Valley High School
Xavier Prep (Palm Desert)
Desert Christian Academy (Bermuda Dunes)
Hemet High School
San Jacinto High School
Tahquitz High School
Copper Mountain College
Mt. San Jacinto College (Main)
Mt. San Jacinto College (San Gorgonio)