Choose CSUSB Days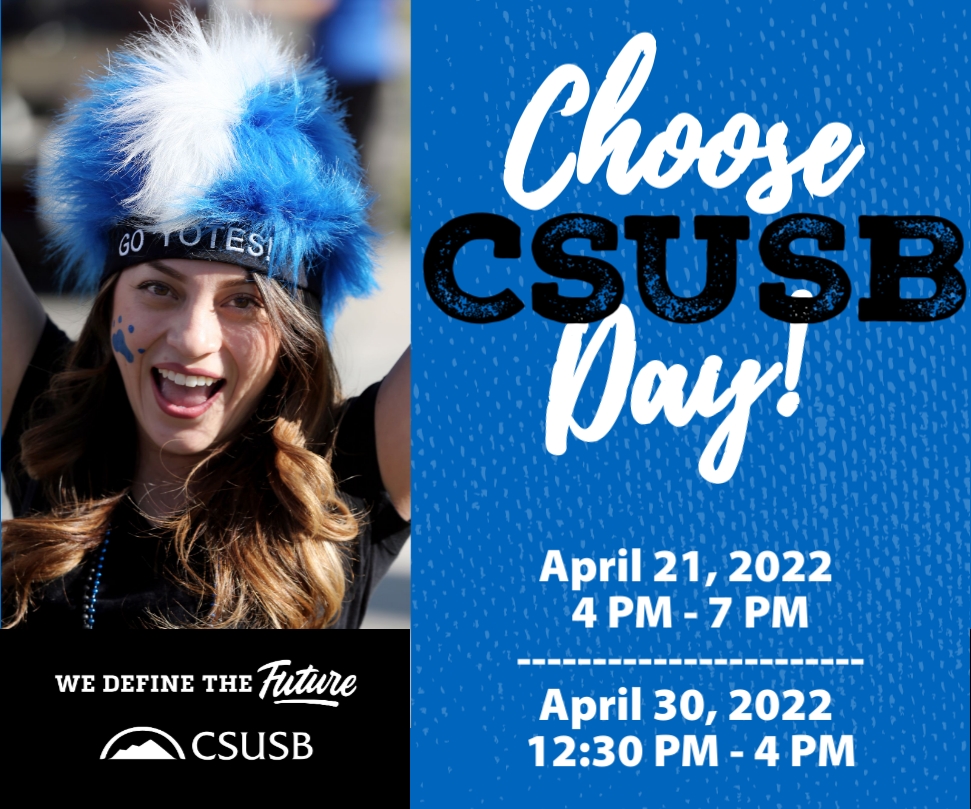 Be apart of Choose CSUSB Day(s), a two-part event that will take place over the course of two separate days. You are invited to attend either day, but we encourage you to attend both days to get the full experience. Both days are designated to celebrate admitted, incoming Freshmen, and Transfer students. Now that you are admitted, come learn more about CSUSB and the amazing campus that awaits you. Each day will offer a different experience and resources. Check out the breakdown of each day below. 
Choose CSUSB Day 1: April 21, 2022 | 4 PM - 7 PM - A Virtual event via Zoom
"What makes CSUSB so unique compared to other universities?"  "Where can my degree at CSUSB take me?"
Focused on the academic college perspective. Students will learn an overview of the campus, through a CSUSB highlights presentation. Additionally, students will have the opportunity to engage with their academic dean, and learn about all the research, internship, and scholarship opportunities within their academic program, so much more!
Click here to register for Day 1
Choose CSUSB Day 2: April 30, 2022 | 12:30 PM - 4 PM - On-campus 
Our hope is that you attended Day 1, and can now enjoy Day 2 of this two-part event. This day will focus on helping students physically build a connection to the campus by seeing it's beauty and resources in person. We will be providing an academic college tour so that you can see where your classes and major are located, in addition to a campus tour. You will also get to engage with our amazing affinity centers, financial aid, and housing through our resource fair hour. Lastly, if you would like our help in completing your confirmation deposit, our confirmation deposit station will be available. Be a step ahead in the enrollment process in becoming a future #Coyote4LIFE! 
Click here to register for Day 2