Fall 2020 Events
First Year Experience and the Foundations Seminar are partnering together to incorporate co-curricular engagement opportunities into all first-year students experience. The events listed below will give students the opportunity to build a foundation of developing into a college-level learner, better transition to college, contribute to the CSUSB community and feel connected on campus and help students meet their curricular and co-curricular goals.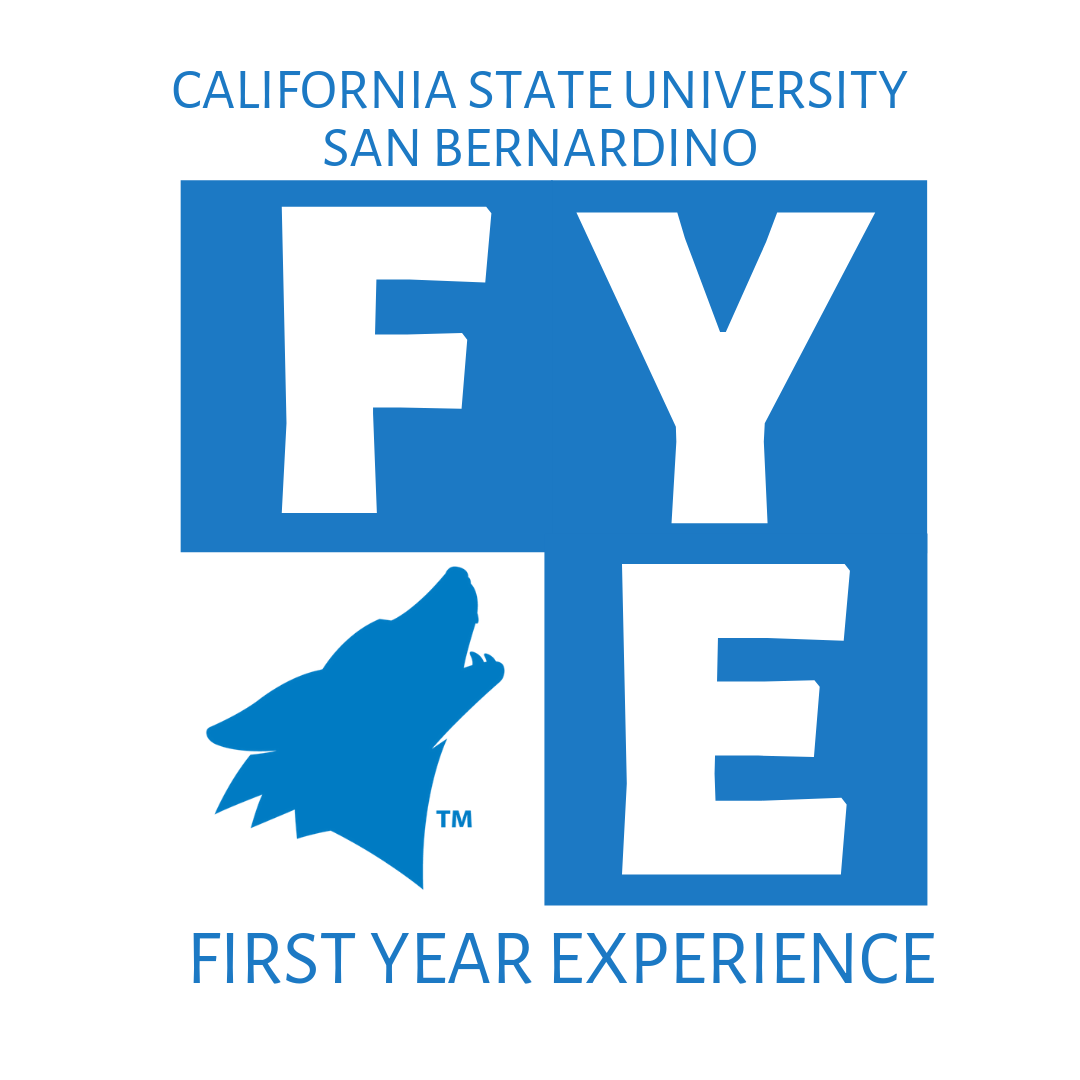 Fall 2020 Workshops
How To Become A Millionaire: Managing Your Personal Finances & Growing Your Money

     Tuesday, September 22 
     12:00 – 1:30 PM 
     Most people have never been taught about personal finances or how to manage money. This talk introduces the importance of budgeting, handling credit cards, the time value of money, investing, and explains how you can become financially secure. 
     Register:  How To Become A Millionaire: Managing Your Personal Finances & Growing Your Money 
Diversity, Inclusion, and Equity Basics: Part I 
Thursday, September 24 
12:00 – 1:00 PM
     Join our Assistant Director for Diversity and Inclusion in the SMSU for an exploration of your social identities and beginning conversations on Diversity, Inclusion, and Equity 
Register: Diversity, Inclusion, and Equity Basics: Part I 
All events can also be found on Coyote Connection. 
Previously Recorded Workshops 
The First Year Friday series was offered throughout the summer to connect new students to campus resources, departments, and services. See below for session topics. To view a recording, click the title of each session; after completing a brief registration page, you will be able to view the entire session.
Ombuds: Unique Name, Important Service
Ombuds is one who is familiar with campus policies, students' rights and responsibilities, and can help find useful options within these guidelines. The Ombuds Program is a great resource when students don't know where to get information for a particular situation, or as a last resort, when normal channels of communication have failed to bring resolution to a difficult situation The Ombuds provides a "safe" space to discuss issues, listen to concerns and is a neutral resource, using informal mediation and/or other problem-solving techniques who facilitates communication between and among individuals. Learn more about this important campus resources and how they can serve you!
How to Get Involved (Even Virtually!)
Interested in getting involved at CSUSB, but not sure where to begin? Staff from the Office of Student Engagement and our Associated Students, Incorporated, will introduce  opportunities to get involved. We will also discuss what student involvement looks like in an online environment and how you can get involved while studying remotely.
Academic Support for Your Success
Join us to learn more about the resources we have to guide you through a successful academic journey at CSUSB. Hear from our Tutoring, Supplemental Instruction, and Writing Center programs, in addition to learning more about our campus' Student Mentor Program and Pan-African Collegiate Scholars!
So… you want to graduate in four years. Interested in learning more about the Four Year Pledge? Want to be sure you know the requirements and what's expected of you? Applications are due August 7, so attend this session to be sure all you need to before you submit your application!
Join us to learn more about the resources we have at CSUSB to support your mental health and personal well-being. During this session you will hear from a representative from Counseling and Psychological Services (CAPS) and the campus Case Management Specialist and Homeless & Foster Student Liaison from the University's CARE Team to learn more about how CSUSB supports you.
Are You Ready for Fall? – Final Q&A Before the Semester Begins
Still have questions you need answered before the start of the fall semester? During this session, we will hold a Q&A with professionals from Orientation and First Year Experience, and Advising & Academic Services. Join us to make sure you are ready to start the fall semester and begin your time as a Coyote!
Fall 2020 Semester Workshops 
First-generation Student Welcome Celebration  
Join First Year Experience, the Transfer Student Success Center and the campus community to welcome all incoming first-generation students (students whose parents have not completed a four-year degree). You will meet and hear from other first-generation students, faculty and staff. 
Transition Thursdays: Email Like a Boss: How to Write & Send Professional Communications
Has anyone ever sat you down and showed you how to compose a well-written email? Now is your chance to develop this essential skill! This workshop will demonstrate how to write professional emails, a skill which will help you navigate your higher educational journey and future career path with ease and success. 
Transition Thursdays: Time Management and Finding Balance  
Join the student mentors for effective time management tips and strategies to be a successful college student. Learn to prioritize your daily, weekly and monthly tasks in a virtual setting. 
Transition Thursdays: Managing Stress and Anxiety as a New Student    
     Are you feeling overwhelmed, stressed or have some anxiety now that you have started college? First Year Experience  wants to help you learn how to manage these feelings and set you up with the tools and strategies necessary to help you be a successful student.